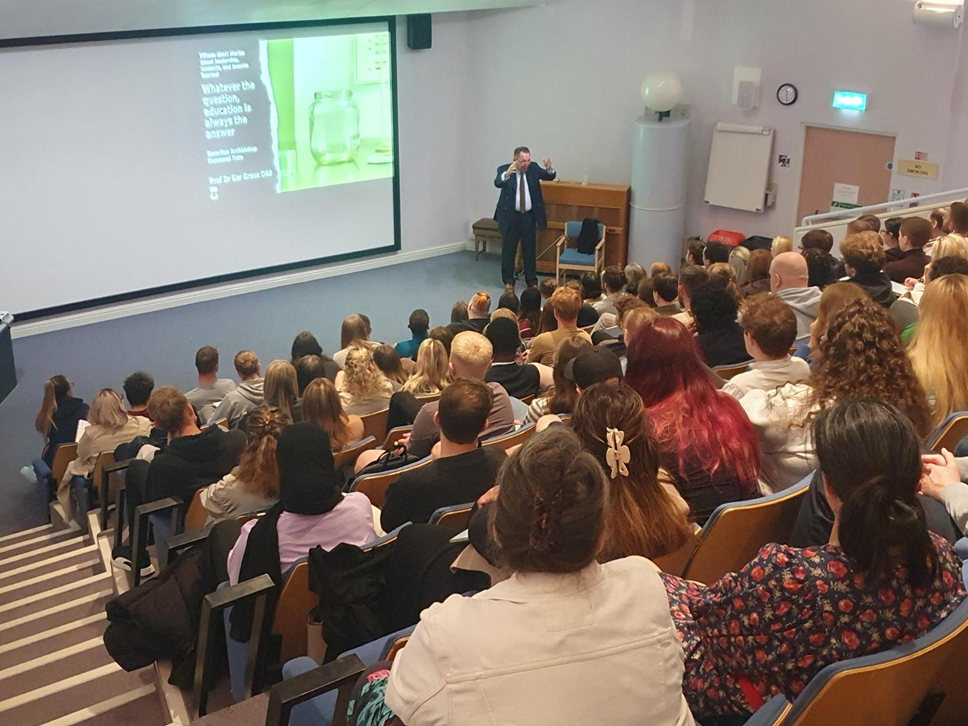 Acclaimed educationalist inspires next generation of teachers
Ger Graus OBE spoke to new student teachers at their induction.
Ger Graus OBE, a leading educationalist, met the latest crop of student teachers earlier this month at University of Cumbria to inspire them about the profession.
Ger was speaking to post graduate certificate in education (PGCE) students on their first day, but far from learning where the toilets were or where to get a cup of tea, induction at University of Cumbria is viewed as an initiation into the teaching profession from day one. Caption: Anne Dareys
Anne Dareys, Senior Lecturer, Institute of Education, Arts and Society, explained:
"At University of Cumbria, we take educating the next generation of teachers extremely seriously. From the moment they start a PGCE with us, we ensure all our student teachers begin to develop the knowledge, skills, and professional habits necessary to confidently enter this exciting profession.
"This is perhaps more important now than ever, with the advent of new technologies and ways of working in a post-pandemic world, we need to ensure our teachers build a strong foundation from which they can make confident decisions in the best interests of their pupils, who are the next generation of leaders in our communities."
This year, the education team at University of Cumbria invited two internationally recognised education experts to welcome new student teachers to the university and the profession in a two-day induction.

Ger Graus OBE, is a renowned figure in the field of education. He is famed for being the first Global Director of Education at KidZania, which introduces children to the world of work through role-play and, prior to that, the founding CEO of the Children's University, which encourages school children to partake in extracurricular activities.

In the 2014 Queen's Birthday Honours List, Ger Graus was made an Honorary Officer of the Most Excellent Order of the British Empire (OBE) for his services to children.
Caption: Ger Graus OBE
Ger spoke to student teachers on the first day of induction, saying of it: "Speaking to more than 100 teacher-training students on their first day at University of Cumbria was one of the highlights of my year so far. I can't wait to see them all again next March, and then at their graduation in November of the same year.
He concluded: "Teacher training and all that follows. I wish I could do it all again."
Religious education and leadership expert Dr Mark Chater met the student teachers on the second day. An author, researcher and consultant on religion and worldviews in education, he has enjoyed a career spanning four decades and has a wealth of specialist knowledge and expertise within the fields of religious education, church schools and strategic charity work. He also holds an honorary position at University of Cumbria as Professor of Practice in Worldviews Education.
On the two speakers, Anne continued: "Drawing on a significant amount of experience they have in leading educational change for the better, both Ger and Mark have helped root our student teachers with a strong foundation for future success."
Students who attended Ger's lecture were enthused after hearing him speak. Caption: Student teacher, Deborah Caine
Deborah Marion Caine, starting her PGCE Secondary Mathematics with QTS (11-16), at University of Cumbria's Lancaster Campus, said: "Professor Ger's lecture was absolutely amazing, really inspiring, and I can't wait to find out more about him."
Lewis John Forsyth, also studying a PGCE Secondary Mathematics with QTS (11-16), agreed: "I thought Professor Ger was extremely interesting, inspiring and motivational. He's definitely somebody that I'll follow and look into what he's done in his time."
Caption: Student teacher, Lewis Forsyth
Ger's visited in the same year that University of Cumbria's initial teacher education provision was rated as 'Good' following an inspection by education body, Ofsted. The university was praised for its expert delivery of curriculums and pertinent research base underpinning them. The report stated that addressing disadvantage is a 'golden thread' running through the university's provision and that students are supported to develop strategies to maintain a healthy work-life balance in readiness for life in school.
ENDS