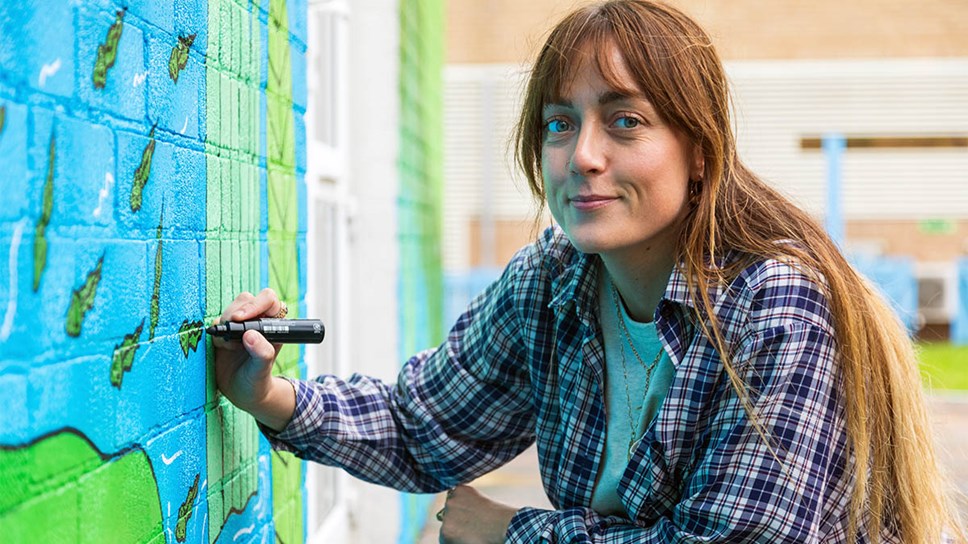 Alumnus artist's mural makeover transforms campus outdoor classroom
Ten years after graduating from the University of Cumbria, artist Yvette Earl has returned to complete a classroom makeover that will inspire future generations of teachers and school pupils.
Yvette has created a new mural on walls of a building within the university's outdoor classroom facility.
Yvette has used her digital skills, introduced to her whilst studying for her BA (Hons) Illustration degree at the university's Brampton Road campus, to create the initial design for her nature-themed mural.
Above: outdoor classroom facility at the University of Cumbria Fusehill Street campus, Carlisle
Initially whitewashing the building's walls to create a base, Yvette brought her colourful creation to life using Loop spray paint cans and Posca pens before hand-painting detailed animals' features.
Complete with a pond, landscaped features and bright screening, the outdoor classroom is a practical facility on the university's Fusehill Street campus.
In a similar way to how they work in schools, student teachers use it to gain experience of working outside and understand how children learn by doing activities in green spaces.
The classroom can be particularly inspiring for staff and pupils of schools that have limited opportunities to spend time learning outdoors.
University alumnus Yvette was a student at the Brampton Road campus in Carlisle between 2010 and 2013. Like many people in the city, she was born in the former City General Hospital which is now the home of the university's Fusehill Street campus. Her mum previously had worked at the hospital too.
Above: Lisa MacGregor, senior lecturer in Early Years and Primary Education, with alumnus artist Yvette Earl
Yvette says: "This is a very special project for me because I used to go to Norman Street School too, that's just around the corner. This is the largest building mural I've done. It is wonderful that this area will help the students who are here to train to become teachers and that it is also something that our schools and community can enjoy too."
WATCH: Illustrator and University of Cumbria alumnus Yvette Earl talks about her campus classroom mural
Lisa MacGregor, senior lecturer in Early Years and Primary Education, University of Cumbria, said: "When our trainee teachers are on placements in schools they can bring pupils to the outdoor classroom. The mural is a fantastic addition as it will spark conversations, the children can talk about which animals and birds may visit it."
WATCH: Early Years and Primary Education lecturer Lisa MacGregor talks about the University of Cumbria's outdoor classroom facility
Dr Ruth Harrison-Palmer, Director of the university's Institute of Education, Arts and Society, said: "Being of and for Cumbria, our university mission is to help equip our graduates with the skills and knowledge they need to succeed, enabling our communities to thrive. Members of our alumni are an important part of our university community who, like Yvette, give back and help others who are following in their footsteps."
Discover more about the programmes and opportunities at the University of Cumbria's upcoming open days and Routes into Teaching events at https://www.cumbria.ac.uk/events/ or by calling the Clearing hotline at 0808 178 7373.
If you are a graduate of the University of Cumbria, keep in touch with all the latest news from your classmates and campus. Join the Cumbria Network: https://cumbrianetwork.global/feed