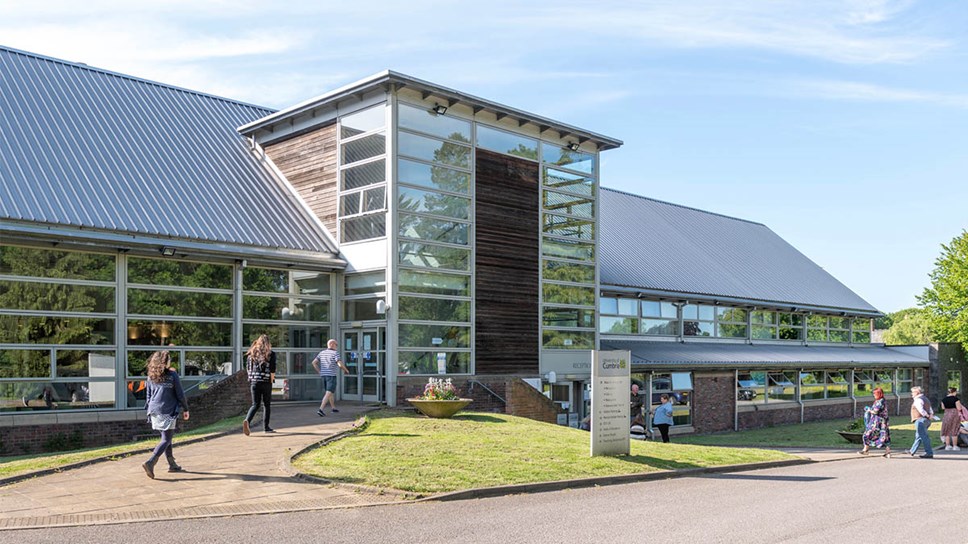 Celebrating Cumbria's contribution to creative and cultural industries
Arts@60 reflects upon evolution of arts education over last 60 years
Creative and cultural industries play a vital role in the health and growth of our society, communities and economy.
Recognising the significant contribution arts education makes towards this, along with its own role in building higher levels sector and regional skills now and for future generations, the University of Cumbria is marking a special milestone this semester.
In a northern city inspired by the works of famous artists, poets, writers and musicians, and located near the unique UNESCO World Heritage Site of Hadrian's Wall, Arts@60 is a programme of events and activities marking six decades of arts education from the university's Brampton Road campus in Carlisle.
It includes:
Four seasonal lectures exploring different phases, places and aspects of arts education in the city.
Pre-bookable campus tours for former students, hosted by the University of Cumbria Alumni Association immediately before each lecture.
A website celebrating the campus, curriculum and project developments, including a gallery of past prospectuses, is being created by graphic design alumnus and current MA student Vincent Walden.
A limited-edition print run of a specially commissioned campus scene by 2013 Illustration alumnus Yvette Earl.
Arts@60 is a social history project led by Karen Jones, who has worked at the campus for 27 years and is development manager for the university's Institute of Education, Arts and Society.
Deeply involved in cultural and arts networks across the North, Karen (pictured, left) has been researching the history of the site and arts education in Carlisle working with partners and connections to develop her knowledge and source materials.
She says: "The social history of what has always been known fondly as the art college has been a personal interest for several years. The progression of the course programmes, the development of the buildings and, most importantly, the stories of the many students and staff that have passed through its doors have all made an impact on the city and the future of arts education as it continues today".
Dr Ruth Harrison-Palmer, Director, Institute of Education, Arts and Society at the university, says: "Delivering excellent and industry-facing programmes of study in an evolving world is our clear focus as a university, with our strategic priorities set upon building new areas of expertise relevant to our region, employers, key sectors, and student demand.
"As we enhance our existing provision and strengthen our research activity, we are also working with colleagues across the arts and education sectors to support participation and education in all art forms, including with schools and community settings to engage young people.
"Our rich heritage, delivery, and evolution of arts education in and for our students, graduates, and communities enables us to deeply understand and support creative and cultural industries as they continue to play a vital role in the development of our healthy and growing economy."
Above (l-r): An artist at the 'art college' and University of Cumbria Games Design students today
Arts@60 SPEAKER PROGRAMME
Wednesday 18 October 2023 | Lecture Theatre 2 | 5.30pm – 7.00pm
Carlisle's First Learning Centre & Stanwix | Stephen White | FREE
With no university in Carlisle, Tullie House filled that gap, providing a range of educational facilities as well as containing a library and museum. When the university came, Tullie House buildings became the campus until the 1950's when the Carlisle School of Art relocated to the Homeacres building on Brampton Road.
Stephen White was Archive Historian at Carlisle Library until his retirement. Stephen continues to do talks on Carlisle's history for a range of community groups.
Friday 27 October 2023 | Vallum Gallery | 6.30pm – 8.30pm
Launch event for A Literary Walking Tour of Carlisle (A Countrystride Guidebook) | Tickets £8.00 to include light refreshments.
A Literary Walking Tour of Carlisle is the third literary walking guidebook to be written by the University of Cumbria's Associate Professor of English Literature, Dr Penny Bradshaw. Penny is theme lead for Cultural Landscapes within the University's Centre for National Parks and Protected Areas and her main area of research expertise relates to literary representations of place.
The Carlisle Literary Walking Tour details the city's long history of literary associations through a half-day walk, accompanied by words from the many celebrated poets and novelists who visited the town, including the Wordsworths, Robert Burns, Sir Walter Scott, Mary Shelley, Charles Dickens, Hugh Walpole, and Melvyn Bragg.
The evening will include a brief introduction to Carlisle's literary history from the author and some readings from the book, followed by a book-signing.
Wednesday 01 November 2023 | Lecture Theatre 2 | 5.30pm – 7.00pm
You mean the Art College Don't You? | Karen Jones | FREE
In October 1963 the main building on the Brampton Road campus opened. This talk will look back on six decades of life on campus, the developments, the buildings and, most of all, the people. There will be an opportunity for people to share their own memories and contribute to a website that will celebrate arts education and the wealth of creative talent that emerged from the 'art college'.
Karen Jones is the Development Manager in the Institute of Education, Arts & Society. Based at the Brampton Road campus, she has a keen interest in the social history of the campus.
Wednesday 15 November 2023 | Lecture Theatre 2 | 5.30pm – 7.00pm
Over the bridge – Stanwix & Rickerby Park | Stephen White | FREE
Romans, Reivers to public park: a walk through 2000 years of history.
Stephen White was the Local History specialist at Carlisle Library until his retirement. Stephen continues to do talks on Carlisle's history for a range of community groups.
Further details, including bookings for the Arts@60 speaker programme events and associated alumni campus tours, are available at https://www.ticketsource.co.uk/stanwixtheatre
Notes to editors
Karen Jones is available for interview. Please contact news@cumbria.ac.uk
Sculptor Sir Charles Wheeler KVCO CBE, President of the Royal Academy of Arts, visited Carlisle on Wednesday 9 October 1963 to officially open the main campus building known as the College of Art.
Further images available on request.