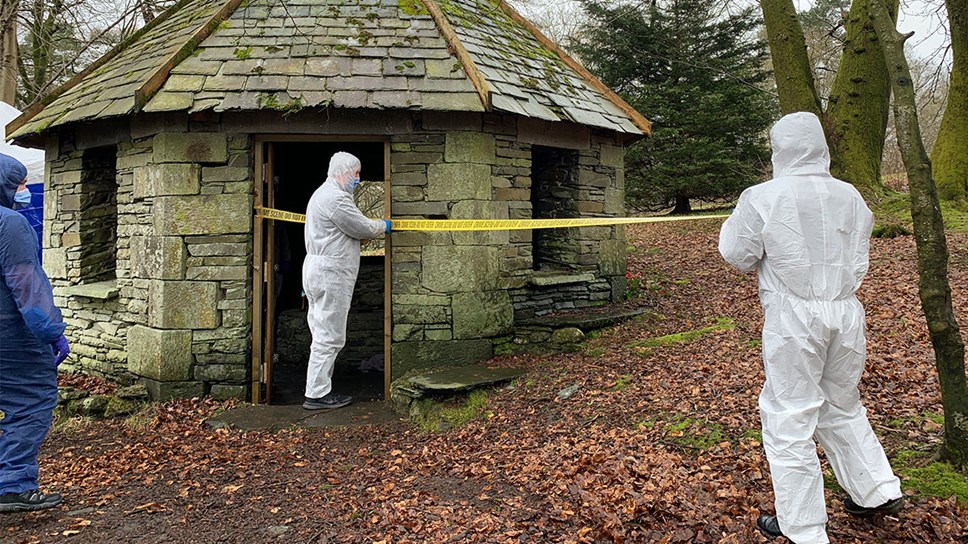 Celebrating ten years of the 'major incident'
An award-winning 'major incident' exercise, where student emergency responders react to real-time scenarios, returned to University of Cumbria's Ambleside campus last week for its tenth birthday.
The exercise known as the 'major incident' saw 100 undergraduates from policing, paramedic and forensic science-related courses take part in a two-day fully immersive exercise pitched to test their knowledge and skills to the limit.
A complex series of escalating events were revealed to the students in real-time with no forewarning. They had to respond quickly and professionally to situations, putting their classroom knowledge into practice.
The story was based on two members of rival organised crime families who decided to get married resulting in rising tensions and reprisals. Students had to work out which incidents were crimes and how to respond ensuring excellent communication between different emergency response teams.
Student police officers were deployed initially to establish the facts, with paramedics following up to treat the injured and, lastly, forensic science students secured crime scenes, following the same procedure as in real life.
Much of University of Cumbria's Ambleside campus was taken over during the exercise.
The campus' main lecture theatre transformed into the incident control room where policing students coordinated the initial emergency response and forensic science students based themselves out of the labs where they ran forensic tests.
A disused building on campus provided a suitable interior backdrop for many of the scenarios, as well as the surrounding landscape and woodlands.
Lecturers and other staff took on the roles of witnesses, suspects, and casualties.
The exercise was code-named 'Operation Decade' to mark the major incident's tenth anniversary, which has seen over 1000 police, paramedic and forensic science students successfully complete the challenging exercise.
Ashleigh Hunt, Head of Teaching, Learning, and Student Experience at the University of Cumbria who has overseen the exercise from the beginning, said it is invaluable as it allows students to make mistakes in a safe environment. She said:
"uniting students from different courses to work together on incidents as they would in real-life, really gives the students a sense of realism and window into what their future jobs will be like. The students had no idea what situations they would deal with in advance and that sense of the unknown required them to put their theoretical knowledge into practice under pressure and in hostile environments."

She continued: "The major incident takes lots of planning and these events would not take place without the huge collaborative effort of staff at the university. We are also incredibly grateful for the support of our emergency service partners who have supported the exercise since the beginning."
Video caption: Ashleigh Hunt talks about the major incident exercise
Throughout the ten years, local emergency services have supported the exercise because they saw the value of preparing students in as realistic a way as possible for their future job. Cumbria and Lancashire Police and local NHS Trusts have all played a part.
Joseph Carter, 20, a second-year student police offer and special with Cumbria Constabulary was surprised by how realistic the exercise was. He said:
"you turn up and you don't know exactly what is going on so you have to figure that out, get the ambulance crews there, brief them, and the same to the crime scene investigators as well so I would say it's pretty realistic."
Second-year student paramedic, Freya Sadler, 26, said:
"we got as close to a real-life experience as we could before we're out on the road, it was really good."
Currently, five courses take part in the exercise, policing, paramedic practice, forensic science, criminology with forensic investigation, and security and intelligence. In the future, it is hoped that student nurses will be able to join in the scenario, treating patients transferred to hospital, and law students will be able to try criminals.
The 'major incident' exercise won a Collaborative Award for Teaching Excellence (CATE) award in 2017 for offering students a highly realistic experience. The award recognises and rewards collaborative work in higher education.
Notes to editors
Image captions
1. Hero image - rime scene being secured by student crime scene investigators
2. Some of the participants of the two-day exercise 'Operation Decade', organised by profession, police, paramedic, forensic sciences and staff and other volunteers.
3. The main lecture theatre at the Ambleside campus was commandeered for the incident control room
4. A member of staff is made up to look like a victim of assault
5. Joe Carter, 20, second-year student police officer
6. Freya Sadler, 26 and Chris Moore, 28 second year paramedic students
Video caption: Ashleigh Hunt talks about the major incident exercise