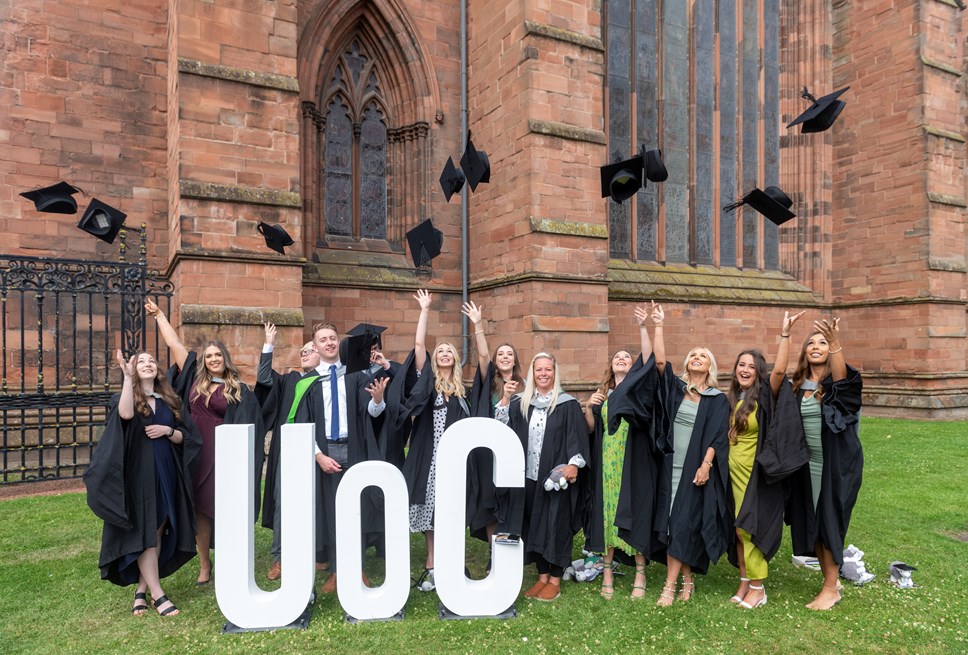 Ceremonies to celebrate University of Cumbria graduates
Internationally recognised in the fields of nursing, midwifery and education, a North of England health trust leader along with a former High Sheriff will join 1,200 students who are graduating from the University of Cumbria next week.
Professor Kath McCourt CBE FRCN, deputy chair at Newcastle Upon Tyne Hospitals NHS Foundation Trust, will receive the highest honorary award the university can bestow.
The Honorary Doctorate is being awarded to Professor McCourt (right) who, over the course of her career, has been nominated, elected and represented her employer and the nursing profession in a variety of regional, national and international settings. She is also an Honorary Colonel, 201 Field Hospital – Newcastle upon Tyne, a Fellow of the Royal College of Nursing and President of the Commonwealth Nurses and Midwives Federation. The federation represents the national nurse and midwife associations in the 56 countries of the Commonwealth.
A former High Sheriff of Cumbria, Marcia Reid Fotheringham JP DL (below, left) has been invited to become an Honorary Fellow of the university in recognition of her significant contribution to the county's public, cultural, community and charitable sectors.
And, in recognition of his lifelong and outstanding contribution to the music industry, an Honorary Fellowship is also going being awarded to Brian Higgins (below, right). Born in west Cumbria and now based in Kent, the songwriter and producer is responsible for some of pop music's best-known and award-winning chart hits.
The honorary awards will be presented during three of the nine graduation ceremonies that are due to take place at Carlisle Cathedral, in the centre of the city's Historic Quarter.
Some 1,200 graduands and their loved ones will converge on Carlisle city centre to celebrate their achievements on Tuesday 22, Wednesday 23 and Thursday 24 November 2022.
Carlisle Cathedral, celebrating its own 900th anniversary in 2022, will see degrees and other academic awards conferred upon the gowned graduands, each one watched by a congregation of proud parents, families, and friends who have supported them during their studies.
Each ceremony will include formal processions into the cathedral with staff and graduates in academic dress. Receptions will take place at the Crown & Mitre Hotel immediately after each ceremony.
The University of Cumbria's Class of 2022, which also includes those who graduated in ceremonies last July, marks the institution's return to its traditional biannual ceremonies, following the pandemic.
Participants will include many who are already working or have qualified to work in their chosen professional and public sectors. From creative arts, to paramedic practice, policing and zoology, they have completed diverse and flexible courses delivered across the university's five academic institutes – arts; education; health; business, industry and leadership; and science and environment - and campuses in Cumbria, Lancaster, and London.
A number of Masters and postgraduate students from around the world, who have studied University of Cumbria programmes through its international partnership with Zurich-based Robert Kennedy College, will also be in Carlisle to celebrate their graduations.
Collaborative links with employers, addressing higher-level skills, sector and place needs, will also be celebrated when graduands who work for organisations of international, national and regional importance, such as BAE Systems, join the ceremonies.
University Vice Chancellor Professor Julie Mennell (pictured) said: "Our graduation week exemplifies the tremendous contributions and impact our graduates make in their chosen professional sectors and services across the North West region and beyond.
"We are immensely proud of our Class of 2022 and what they've achieved and in such challenging circumstances. We are looking forward to welcoming them and their loved ones to Carlisle Cathedral and to sharing in their celebrations and considerable achievements."
Ceremonies will be live streamed and can be viewed at www.cumbria.ac.uk/graduation.
Graduates, guests and others can also join in the celebrations on social media. Updates will be via @cumbriauni, using the hashtag #WeAreCumbria.
CEREMONY INFORMATION
Tuesday 22 November – three ceremonies, starting at 10am, noon and 3pm
Wednesday 23 November – three ceremonies, starting at 10am, noon and 3pm.
(10am ceremony will include Honorary Doctorate award to Prof Kath McCourt CBE FRCN)
(12 noon ceremony will include Honorary Fellowship to Marcia Reid Fotheringham JP DL)
Thursday 24 November – three ceremonies, starting at 10am, noon and 3pm.
(3pm ceremony will include Honorary Fellowship to Brian Higgins)
Further ceremony information is available here
Notes to editors
NOTES TO EDITORS
Journalists and media organisatons are invited to attend and cover the graduation events. Please contact the university communications team in advance to discuss your requirements and plans:
(E) news@cumbria.ac.uk (T) 01228 279360.