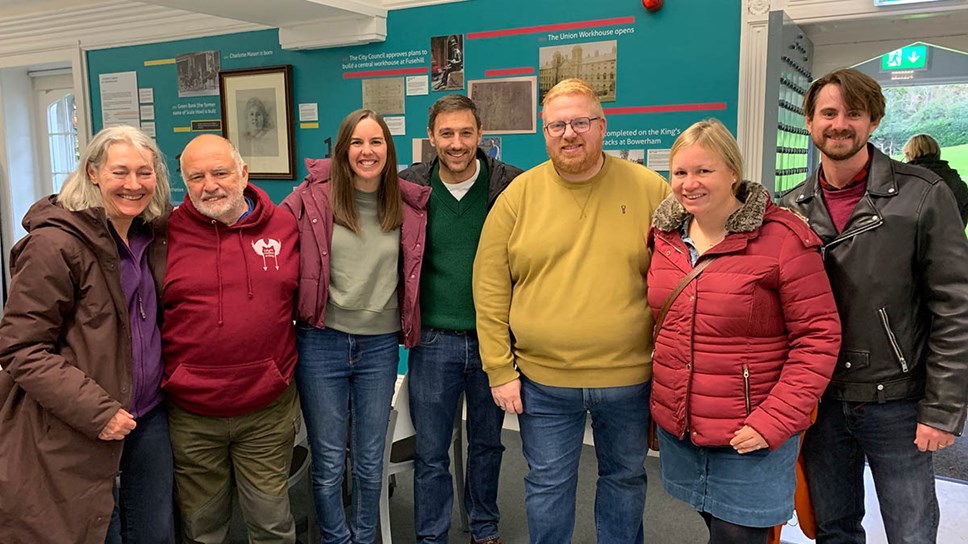 Exclusive event for Ambleside alumni
The University of Cumbria Alumni Association has welcomed former students and their families to its first exclusive alumni campus open day at Ambleside.
During continuing 2023 commemorations celebrating the life and legacy of Victorian educational pioneer Charlotte Mason a century on from her death, more than 75 former students of the campus enjoyed a trip down memory lane with tours of the site, meeting current staff and students, and sharing their stories of their time of learning in the Lake District.
Memorabilia and artefacts of Charlotte Mason and the campus's history which stretches back to the late 1890s were on display.
Whether graduation was last year or 50 years ago, former students of the University of Cumbria - or who completed programmes at its legacy institutions including St Martin's College and Charlotte Mason College - are automatically members of the Alumni Association.
Raising awareness of the Alumni Association, the campus event was organised to encourage 'lost' alumni to reconnect to their alma mater.
Joanne Lusher, Alumni Relations Officer, (pictured above) said:
"I am thrilled to see so many of our alumni, this event has been very popular which shows just how much this campus means to those who study here. I've loved listening to everyone's stories. Each graduate is part of the institution's history and preserving memories is so important."
Twenty years on from the start of their teacher training in 2003, couples Peter and Becky Dacre and Blake and Catherine Prince - who met in Ambleside as students – along with Tim Stead (main picture) were among groups of lifelong friends who returned to campus on Saturday to reminisce.
Tim, from Oxfordshire, said: "We were here from 2003 to 2006 and from our friendship group who studied here, most of us have gone on to work abroad in places like Shanghai, Africa, Egypt and Vietnam – and that's down to this place. Ambleside has allowed us to travel the world and that means a lot, so it has been nice to come back 20 years after first coming here and starting our studies."
Cathy Styles was a student at the campus between 1986 and 1990. She has spent the majority of her career working in schools in south Cumbria, including the last 14 years as headteacher of Croftlands Junior School in Ulverston before her retirement in August.
Cathy, pictured right, said: "I've got lots of happy memories of studying here and this has been making me cast my mind back.
"It has been fantastic just walking around. There are so many parts of the college that are the same and then you go to other parts and it is completely different."
Originally the site of Mason's beloved House of Education, the campus remains a site of learning today. Ambleside welcomes home and international students who are on undergraduate, postgraduate, doctoral and apprenticeship programmes across several academic areas including tourism management, forestry, geography, marine and freshwater conservation, outdoor and experiential learning, paramedic practice, event safety management, and an MA in Literature, Romanticism and the English Lake District.
Quality teacher training, upon which the Ambleside site was created, continues to be delivered and remains a strength of the university, helping to provide a flow of highly skilled professionals to schools and other educational settings.
Above: Current Ambleside outdoor leadership student Aidan Cross shows visiting alumni one of the Charlotte Mason displays
As part of the Charlotte Mason centenary commemorations, the university's Learning, Education and Development (LED) research centre and the US-based Charlotte Mason Institute has hosted a sell-out conference, welcoming educators from around the world to the campus to examine Charlotte Mason's ideas and principles about how children and young people learn – many of which still resonate today.
Upcoming commemorative events include a panel discussion on 8 November.
Offering a deeper understanding of her sphere of education influence, guest experts will be Elaine Cooper from Heritage School, Cambridge; Hilary Cooper, an Emeritus Professor at the University of Cumbria; Dr Deani van Pelt, director of the Charlotte Mason Institute and University of Cumbria Visiting Research Fellow in Charlotte Mason Studies; and Stephanie Spencer, Professor of History of Women's Education at the University of Winchester.
Professor Sally Elton-Chalcraft, Professor of Social Justice in Education and director of the university LED research centre, will chair the free online event, places of which can be booked via https://store.cumbria.ac.uk/
VIDEO: Cathy Styles reminisces about her Ambleside student days
ENDS
Notes to editors
1. Details and information about Charlotte Mason and the commemorations taking place in 2023 led by the University of Cumbria and partners The Armitt Museum and Charlotte Mason Institute can be found at: https://www.cumbria.ac.uk/media/CM2023-events-catalogue-(1).pdf  
2. Caption for main picture (l-r)
Jane Robinson, who has worked at the university for almost 20 years, with former Ambleside lecturer John Goodwin, and alumni Becky and Peter Dacre, Blake and Catherine Prince, and Tim Stead.