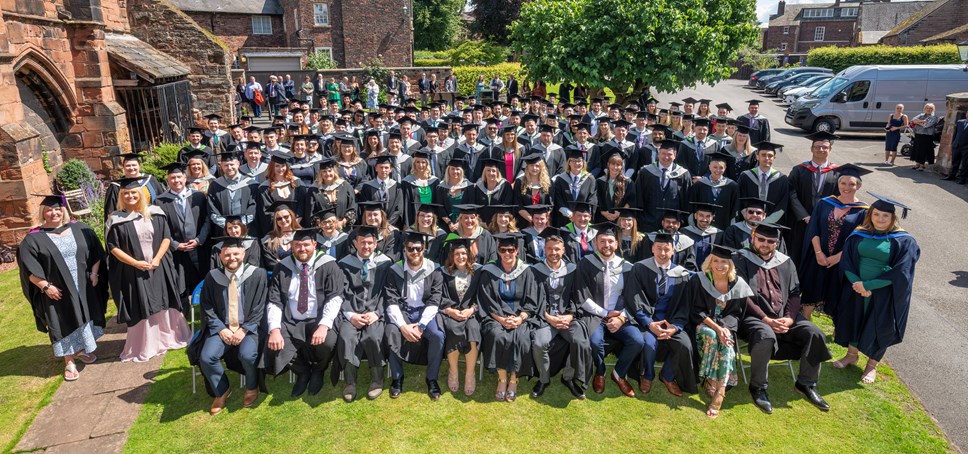 First paramedics on 'trailblazing' apprenticeship graduate and enter NHS workforce
200 paramedic apprentices from across England officially graduated from University of Cumbria having learnt while they earned over the last two years.
200 paramedics from across England on a 'trailblazing' apprenticeship, descended upon Carlisle yesterday, to officially graduate from University of Cumbria in front of friends and family.
Apprentices from North West Ambulance Service (NWAS), East of England Ambulance Trust (EEAST), South East and Central Ambulance Service (SCAS), South Western Ambulance Service NHS Foundation Trust (SWAST), London Ambulance Service (LAS), South East Coast Ambulance Service (Secamb) and the Isle of Wight Ambulance Trust (IoW), made journeys of varying length to graduate in the impressive surroundings of Carlisle Cathedral.
Photo caption: Cohort from LAS graduated as a separate ceremony to the other six ambulance trusts.
Of those graduating, 74% achieved an upper-class degree*, 32% of those received a first-class degree, illustrating the high calibre of graduates from the programme.
The apprenticeship boosts England's paramedic workforce by up-skilling front line ambulance staff, such as, emergency medical technicians, to fully qualified paramedics in two years. Apprentices continue to work on the front line as they train.
Four apprentices were awarded prizes as part of proceedings for high achievements over the course of their studies. They are:
Lee Knowles from LAS was awarded 'Most Inspiring Student,' for always helping other students,  


Daniel Chester from NWAS received the 'Innovation in Paramedicine Prize,' for his dissertation that received a first-class mark, 


Lee Sweetlove from EEAST was named 'Apprentice of the Year,' for his exemplary attitude, and for being a great paramedic role model and future leader,


Lucille Starkey from SCAS was made 'Scholar of the Year' for achieving consistently high grades.
The apprenticeship takes two years to complete, as opposed to three years via the traditional undergraduate route, and lets apprentices work on the front line, responding to 999 calls, as they train.
Lucille Starkey of South Central Ambulance Trust was recipient of 'Best Scholar Award'.
She said: "I could have done one of the other university degrees, but I chose to wait for the apprenticeship because of the ability to mix my full-time work, receiving a wage, and studying alongside to transition from associate ambulance practitioner to a fully-fledged paramedic.
"It was the right balance for me, that allowed me to get the full degree, the BSc, which I'm really proud to have, and helped me to consolidate my existing skills from my role while moving forward."
Photo caption: Lucille Starkey, South Central Ambulance Trust.
The apprenticeship route also opens up a paramedic career to more people who do not have a grounding in higher education, or who have families to support, as they earn while they learn.
Photo caption: Lee Knowles, paramedic apprenticeship graduate with London Ambulance Service.
Lee Knowles, 50, from London Ambulance Service, and winner of 'Most Inspiring Student' award, was a former driving instructor but to join the ambulance service after volunteering for a charity in Lincolnshire that responded to 999 calls in the community. He started as an emergency medicine technician before proceeding with the paramedic apprenticeship.
He said: "A quarter of the way through the course, I was diagnosed as dyslexic, the tutors picked it up and I got extra help and time to complete assignments. The course was a hard slog, but it's been very worthwhile, and I'm very proud."
The BSc (Hons) Paramedic Science (Apprenticeship) Degree was devised by the University of Cumbria two years ago to address significant ongoing workforce shortages in the profession. Seven of 11 English ambulance trusts joined the programme, which currently delivers over 600 trained paramedics for the NHS workforce annually.
According to recently published NHS Long Term Workforce Plan, the NHS will need to increase the numbers of paramedic apprentices to 50% of overall graduate student numbers in nine years.
Tom Davidson, Director for the Centre for Excellence for Paramedic Practice, at University of Cumbria, is the innovator behind the university's unique approach to paramedic education.
He said: "It is clear in the NHS Long Term Workforce Plan that paramedics are integral to the success of the plan and the future of the NHS. Paramedics are specifically mentioned 18 times in the document, more than any other allied health profession.
"We are proud that graduates from our paramedic apprenticeship, delivered in partnership with seven English ambulance trusts, will directly boost the NHS workforce and contribute towards the ambitious targets set out in plan."
Carol Offer, NWAS Assistant Director for Workforce & Organisational Development, said, "Congratulations to all our students who have graduated this year, and we are equally pleased to see Daniel pick up his special award. It is fantastic that the first cohort has now completed the course, and I'm delighted to see all their hard work pay off.
"The programme is proving to be a great success and is becoming an incredibly popular route for our front-line staff to develop their clinical skills whilst maintaining a full-time role at NWAS. We see the equivalent benefit of being able to develop and enhance our own workforce. We currently have seven cohorts on the course, with three starting every year. I look forward to seeing how they develop within the paramedic profession."
Paula Windsor, Assistant Director of Education Transformation at the South Western Ambulance Service NHS Foundation Trust (SWASFT), said: "We are immensely proud of our 30 Paramedic Apprentices who graduated yesterday, their commitment is testament to what they have achieved and we would like to extend our congratulations to them all.
"Developing paramedics through an apprenticeship pathway is an exciting and privileged opportunity. As a placement provider and employer we strive to ensure all our students have a learning experience that is focused on quality, in a safe and inclusive environment.
"We look forward to supporting them further as they develop in their newly qualified roles, to deliver the best possible care to their patients across the South West of England."
The Centre for Excellence in Paramedic Practice is the principal provider of paramedic education in the UK.  Based at The University of Cumbria, it has over 3000 students studying on a mixture of degree and professional qualifications, including the paramedic apprenticeship scheme which is delivered in partnership with seven English Ambulance NHS Trusts.
ENDS
Notes to editors
*74% of graduates achieved an upper-class degree, which the Office for Students deem a 'good degree' which is classed as either a 1:1 or 2:1. 32% of graduates achieved a 1:1 and 42%, 2:1.