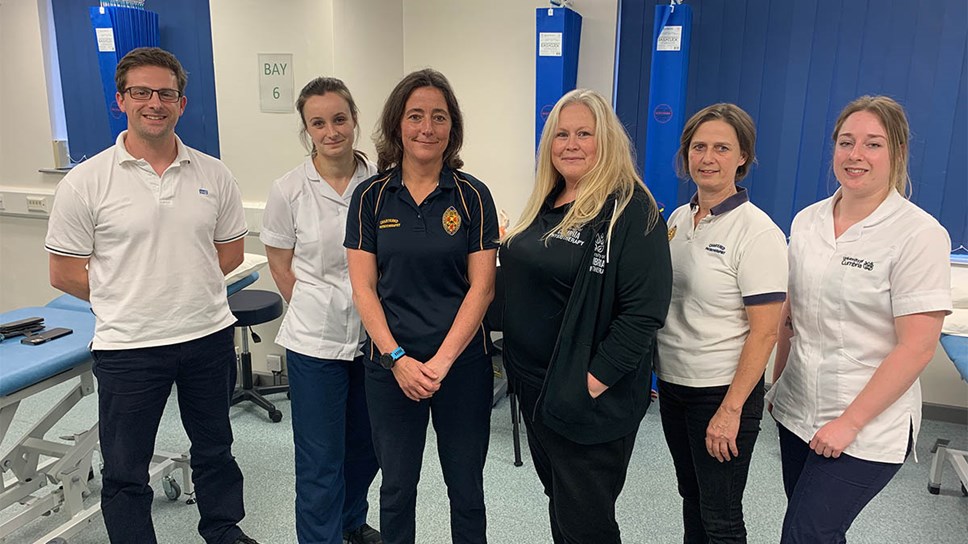 Groundbreaking NHS and University partnership supports physiotherapy patients
Ground-breaking University and NHS collaboration working is increasing north Cumbria's physiotherapy capacity
The University of Cumbria, in partnership with North Cumbria Integrated Care NHS Foundation Trust, has opened a new NHS musculo-skeletal physiotherapy (MSK) outpatient clinic on the site of its Fusehill Street campus.
The clinic is the first of its kind where students are supported to treat physiotherapy out-patients referred through the NHS to a university-based clinic.
Thanks to £80,000 grant funding from Health Education England the University of Cumbria has transformed former classrooms into a dedicated clinical area for physiotherapy. This area is now used by the North Cumbria Integrated Care NHS Foundation Trust's physiotherapy teams to see patients while mentoring and supporting physiotherapy students from the university.
Above: An area of the new physiotherapy clinic
One patient who has benefited from the clinic is Gary Thomson (below, right) from Carlisle. He received physiotherapy from the students after he ruptured a tendon in his upper arm. He said:
"The service has been fantastic, I was under the care of physiotherapist Lindsey and then the students and it has gone really well, I'm really grateful. I wasn't able to do my job but because of the clinic and the treatment I have received I'm back to work now. It's been really wonderful and I would recommend this service to anyone."
Sarah Smith is the Principal Lecturer for Rehabilitation and Physiotherapy at the University of Cumbria. She said:
"This unique partnership means, from autumn 2023, there will be a fourfold increase in the numbers of student placements that can be supported. It will help develop and maintain north Cumbria's next generation of physiotherapists and provide them with best practice learning opportunity. The long-term ambition is to develop this partnership to further support student placements and current workforce development. It is hoped that more patients can be treated and therefore reduce the waiting times for physiotherapy in north Cumbria.

The collaboration will be a pilot for the first year and longer term we want to explore opportunities for similar partnership working with other NHS services in north Cumbria."
As well assessing and treating patients in the clinic the students are developing learning resources that can be used in all MSK services across north Cumbria as part of patient management.
The university's state of the art digital simulation immersive room is being used to enhance student learning and further embed skills that have been learned in the clinic and at university.
On placement, students spend three days a week treating patients appropriate to their skills and knowledge in clinic, and two days conducting research into the health care needs of the county and honing their skills and knowledge through simulation.
Georgia Clark is one of the students currently on placement at the clinic. She said:
"It's great, we are able to get a feel of real life with real patients and real conditions working alongside the educators. It gives you a lot of confidence knowing the educators are right there and can jump in and help or advise at any time. We have been given our own caseload so that when we are qualified we know how to manage that efficiently, treating patients and writing up case notes."
Jemma Knowles is another student currently on placement in the clinic. She said:
"It's so helpful and we are using real life skills and we are seeing a wide range of conditions. The educators are here to help all the time and we feel very supported and that's what the NHS is like – supporting each other. I'm really enjoying it, I can't think of a better placement."
Rebecca Tiffen is the east Cumbria physiotherapy team lead at North Cumbria Integrated Care NHS Foundation Trust. She said:
"The clinic space is an extension of the service that is currently provided at the Sands Centre in Carlisle. Longer term it is hoped that we can have an impact on waiting times. The collaboration also plans to give current staff further opportunities for their own development through research opportunities and projects with the university."
Sarah Smith added:
"The physiotherapy clinic is one of several university health initiatives designed to improve the health of the county. As well as the new Cumbria School of Medicine being delivered in partnership with Imperial College London, which aims to train doctors for the area, the physiotherapy clinic is focused on understanding and improving the local community's physical health."
Rebecca Tiffen added:
"This collaboration means that we are investing in our current and our future workforce. We are passionate about growing our own workforce by giving those coming through the university the best possible experience and also developing the current team by giving opportunities to develop their career."
Notes to editors
Photos show:
The clinic area
Gary Thomson
The students and the educational support team from NCIC and UoC:
(l-r) David Swift, Jemma Knowles, Rebecca Tiffen, Sarah Smith, Lindsey Newton, Sophie Newcomb.
Other university and health physio partnerships are in place but are with private health care clinics – we can provide details if required
The clinic is open weekly between Tuesday - Thursday 8:30-4:30pm.
Patients are referred to the clinic by NHS professionals through the normal referral channels
The clinic is a specifically designed and equipped space on the ground floor of the Skiddaw building on the Fusehill Street campus
There is dedicated access from the rear car park and disabled access via the main entrance to Skiddaw building
North Cumbria Integrated Care NHS Foundation Trust provides hospital and community health services to a population of around half a million people. We're responsible for delivering over 70 services across 15 main locations and we employ over 6500 members of staff.
The communications team contact is 01228 603890 or communications@ncic.nhs.uk
We are the University of Cumbria, for and from Cumbria and our localities, rooted in and serving our communities and powered by our three greatest assets - people, place, and partnership. We were established in Cumbria for a reason, and this drives us: to increase higher education participation in our county, to address higher-level skills and sector needs and most importantly to positively impact on the lives and livelihoods of individuals across our communities.
We are proud to have been recognised as a silver-rated university by the Teaching Excellence Framework 2023 (TEF) for the quality of our teaching and student outcomes. And we are amongst the best in the UK for graduate employment and top in the North West with 97% of our students getting a job or going on to further study within 15 months of graduating (HESA 2023).
And as we look forward, we will continue to transform lives and livelihoods through learning, applied research, and practice – for now and for future generations. Find out more at www.cumbria.ac.uk