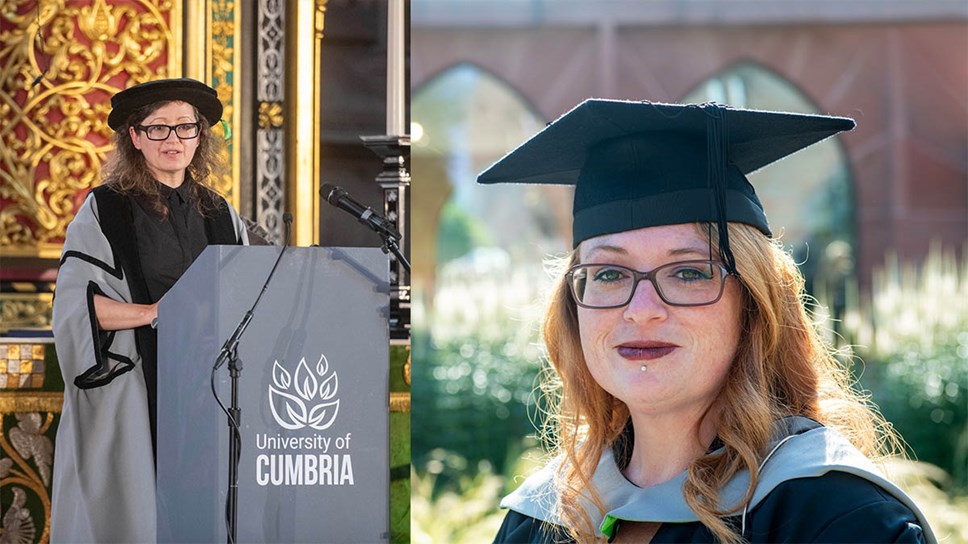 Inspirational pair recognised by University of Cumbria
Two women who returned to university as mature students to follow their dreams in nursing and law have been honoured by the University of Cumbria.
They are career-changer Helen Michael who has enjoyed a diverse nursing career whilst continuing her own development, and new law graduate Elizabeth Molloy.
Helen has been named 'Alumnus of the Year' and Elizabeth, who has had a six-year student journey, is the recipient of the 'Spirit of Cumbria' award that is given to a graduate who exemplifies the university's values of being progressive, personal and engaged.
HELEN MICHAEL – Alumnus of the Year award winner
Born and raised near Hallbankgate in rural north Cumbria, Helen is a nurse whose varied professional roles have included providing health and sexual education for young people, research nursing, being an inspector for the healthcare regulator, and now as a clinical lead in clinical governance.
This wasn't always the case. Growing up with a love for the natural world, after leaving school Helen, in 1994, gained her first degree in geology. She went on to do a PhD in Geochemistry, which included a stint studying granite in the Andes of Argentina, before working for the Environment Agency.
During those studies, Helen took a year out and worked as a healthcare assistant not knowing how this would later become a catalyst for a future career in the NHS.
After seven years in her job, Helen wanted to do something that had tangible benefits for people and decided upon nursing. At the age of 32 Helen applied to study at St Martin's College, now the University of Cumbria, in Carlisle. Scoring 100 per cent for many of her assignments, Helen graduated with her first-class degree in adult nursing in 2009.
After graduation, Helen and her husband moved to Manchester so she could take up a permanent role with the sexual health charity Brook, where she had completed a student placement.
Helen continued her own studies and developed new skills, enabling her to teach. She also spent two and a half years as a research nurse for the innovative Salford Lung Study.
She next became an inspector for the Care Quality Commission, the regulator of all healthcare providers in England.
Her current role as Clinical Lead for Risk and Improvement at NHS Professionals, an organisation owned by the Department for Health and Social Care, which provides flexible staffing to the NHS Trusts with the aim of reducing agency spend.
Helen's role is focused on quality improvement, patient safety, safeguarding, supporting the NHS in what they do and making a difference.
Helen, whose sister is also a nurse, said: "My journey through nursing has been very different: sexual health, research nursing, an inspector for the healthcare regulator, and now as a clinical lead in clinical governance. In the past I used to put myself down, tell others I wasn't 'a proper nurse' when they asked about a rash or a lump – "Ask my sister – she's a proper nurse." But as I get further into my career and have seen people coming in from a clinical environment trying to do my job, I realise I do have a set of skills that have a direct impact on patient safety and help drive quality improvement.
"Nursing and healthcare is vast. Whether you stay as a hard-working Band 5 on the stroke unit until you retire, or career climb up to the director of nursing, the NHS needs all of us, no one of us better or more important than the other."
Find out more about the University of Cumbria's Alumni Association at https://www.cumbria.ac.uk/alumni/
ELIZABETH MOLLOY – Spirit of Cumbria award winner
Elizabeth has had a unique six-year student journey at the University of Cumbria, graduating with her law degree and being named 'Spirit of Cumbria' prize winner.
Elizabeth has been recognised for being an exceptional role model both within and outside of the university. Numerous positions she has held include roles within the Students' Union, university Law department and development, and engaging with employers as a past President of the university's Law Society. This helps provide a flow of skilled graduates to the legal profession across the region and beyond.
Brought up in France, Elizabeth returned to the UK in 2005, pregnant with her first child. After meeting her husband and having a second child, Elizabeth fell ill and spent much of the next three years in hospital. After this period, Elizabeth decided that she would no longer allow illness to define her life.
More than a decade after leaving school, Elizabeth went to night classes to do her GCSEs in English and Maths. Her French academic exam results had not been enough to secure a place on to a course that would enable her to access higher education.
Six months later, after gaining her GCSEs, Elizabeth applied to join the University of Cumbria and its integrated foundation year pathway, a one-year programme which offers the opportunity to develop study skills and knowledge before students move on to their chosen degree programme.
During her time at university Elizabeth and her family have experienced a number of personal difficulties including bereavement and serious illness. Elizabeth also had to isolate from everyone for more than six months during the Covid pandemic, due to her own high level of vulnerability.
Along with her strength and resilience, that includes living with hypersomnia and other neurological conditions, Elizabeth has proven to be an inspirational role model for her fellow students and academic peers.
She has also worked with academics who deliver the University of Cumbria's respected Law programme to shape the degree, embedding wellbeing into the curriculum after studies showed that over 80 per cent of barristers and solicitors will deal with anxiety and depression due to a lack of work-life balance.
Elizabeth said: "Without the support of the university I would not have got through my degree. When I restarted my education journey, I was still very ill. I had little confidence but over the years this has built up as has my mental strength and belief in my ability. Without the support from tutors, student union and the rest of the staff I would not be the person I have become today.
"Between having provisions made for my assessments to my personal tutor calling during Covid when I had taken a year out, to check that I was ok, throughout all of my studies I felt acknowledged, my concerns were listened to, and support was given. Every student will face a 'darkest hour' but with this type of support I never felt I couldn't do it. I became part of a community that wants the best for you and helps get you there." 
VIDEO: Elizabeth's reaction to receiving the 'Spirit of Cumbria' award
Details about the University of Cumbria, open days and Clearing can be found at https://www.cumbria.ac.uk/clearing/ or by calling 0808 178 7373.
ENDS