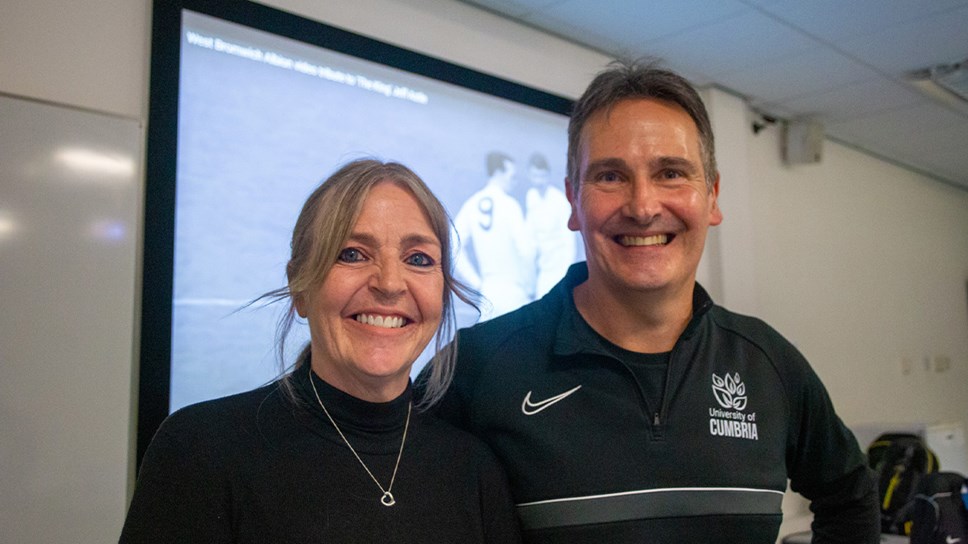 Jeff Astle's daughter visits health students learning of links between brain injuries and sport
The daughter of the late England and West Brom footballer Jeff Astle has visited the University of Cumbria's Institute of Health, meeting students and staff to discuss growing links between degenerative brain disease and sport.
Dawn Astle's visit is part of the 'Contemporary Issues' module that students on the university's BA (Hons) Sport Coaching and Physical Education programme are completing this semester.
'Heading in football', 'transgender participation in sport' and 'Is school PE in crisis?' are the three mains areas being explored, with students also able to opt to research their own area of interest.
Dawn led a talk and Q&A session about the research and work of The Jeff Astle Foundation and other organisations.
Goals of The Jeff Astle Foundation are to raise awareness of brain injury in sport, work with authorities to deliver research into the links between brain injury in sport and degenerative brain disease, and to support sports people living with the effects of dementia or chronic neurological impairment.
Since the foundation was formed in 2015, increasingly studies show links between head injuries and neurodegenerative disease. New heading guidance has also been introduced across all levels of football by the sport's authorities, and there is a trial ban in some children's competitions and leagues.
Dawn Astle (pictured, below right) said: "I was so delighted to join Mark and the students to talk about Dad's life, his death, and the work of The Jeff Astle Foundation.
"I hope all who attended has a better understanding now of the serious implications around head injury and repeated head impacts for not just football, but sport as a whole. We must make the game we know and love safer for everyone across all levels of the game."
Dr Mark Christie, senior lecturer in sport at the University of Cumbria, invited Dawn to Lancaster to speak to 50 students and staff members who had come together from the university's Institute of Health bases in Cumbria and Lancashire.
Dr Christie said: "The Jeff Astle Foundation is doing incredibly work and Dawn is at the forefront of a movement happening across football and sport on this issue. We can't thank her enough for her visit and enriching our students' experience in this way.
"Dawn's contribution enhances the work we are doing as a university to help inspire and equip our students and graduates with knowledge and skills, ready for the positive impact they will go on to make in their careers and communities."
Students who complete the BA (Hons) Sport Coaching and Physical Education degree course regularly go on to enjoy careers in teaching, sports governing bodies, local authority sport and physical activity developments, sports management, and health and fitness.