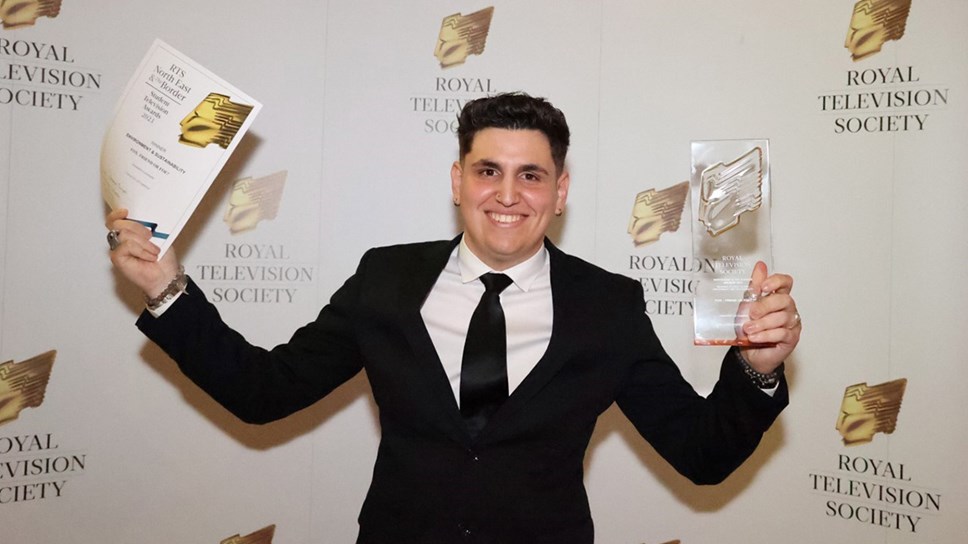 Royal Television Society recognition for students' wildlife films
A short film exploring views about urban foxes has led to award success for new University of Cumbria graduate Alexandros Leontiades.
Alex's 'Fox – Friend or Foe' film has won the 'Environment and Sustainability' category of the Royal Television Society (RTS) North East and The Border Awards 2023.
Shortlisted in the same category was Brandon Downs, who followed Barbary Macaques on Gibraltar.
Both Alex and Brandon had submitted their final major projects from their BA (Hons) Wildlife Media studies. They studied at the University of Cumbria's Institute of Arts graduating in November 2022.
Alex's 11-minute film documents the lives of a group of urban foxes living within an allotment in London and includes several interviews, including insight from multi award-winning wildlife photographer Matt Maran.
Alex was presented with his RTS Award by Keith Partridge, who is an award-winning adventure cameraman and a Professor of Practice at the University of Cumbria.
Alex said: "I am honoured to receive the Environmental and Sustainability RTS award. I could not have done it without the support throughout my studies from my lecturers at the University of Cumbria, friends and loved ones.
"With the UK being one of the most nature depleted countries in the world, it is important to spread awareness of false narratives which are deep-rooted in British culture. Since graduating from the University of Cumbria I have moved to Reading where I am hoping to pursue a career in wildlife filmmaking and photography with an interest in conservation."
Lecturer Laura Baxter, BA (Hons) Wildlife Media programme leader, said: "Alexandros relocated from Cyprus to study in Carlisle at the University of Cumbria and has always been a really conscientious and industrious student, achieving a first class result for his degree. Brandon also achieved a first class result and was very involved in the Wildlife Society, working to increase the biodiversity on campus.
"They are both very hard working and talented young people - a combination that will lead to bright futures!"
The three-year BA (Hons) Wildlife Media course covers wildlife biodiversity, habitat, and behaviour, alongside the theory and practice of professional film and photography. The unique course provides many work-integrated opportunities with leading industry professionals locally, nationally, and globally.
Academics and guests of the university's Institute of Arts who attended the awards ceremony were also delighted to see alumni Tom Strachan and Topher McGrillis as finalists in the Professional Excellence categories of Post-Production and Photography too.
The University of Cumbria joined more than 300 guests from across the industry, including North East businesswoman and star of BBC One's 'Dragons' Den' Sara Davies MBE, at the Newcastle Gateshead Hilton for the regional RTS Awards. The awards ceremony took place on Saturday 25 February 2023.
View Alex's 'Fox - Friend or Foe' on Youtube:
Brandon Down's 'The Chatter of the Rock' can be viewed below:
Learn more about the University of Cumbria's Wildlife Media programme at https://www.cumbria.ac.uk/study/courses/undergraduate/wildlife-media
Notes to editors
PICTURES
1 - University of Cumbria Wildlife Media graduate Alex Leontiades with his Royal Television Society award, pictured at the ceremony on 25 February 2023. CREDIT: Royal Television Society
2 - (L-R) Dr Colette Conroy, director, Institute of Arts, University of Cumbria, with Wildlife Media graduate and RTS award winner Alex Leontiades, and adventure cameraman Keith Partridge. CREDIT: Royal Television Society
3 - (L-R) North East businesswoman and star of BBC One's 'Dragon's Den' Sara Davies MBE with University of Cumbria Wildlife Media Class of 2022 graduate and Royal Television Society finalist Brandon Downs.