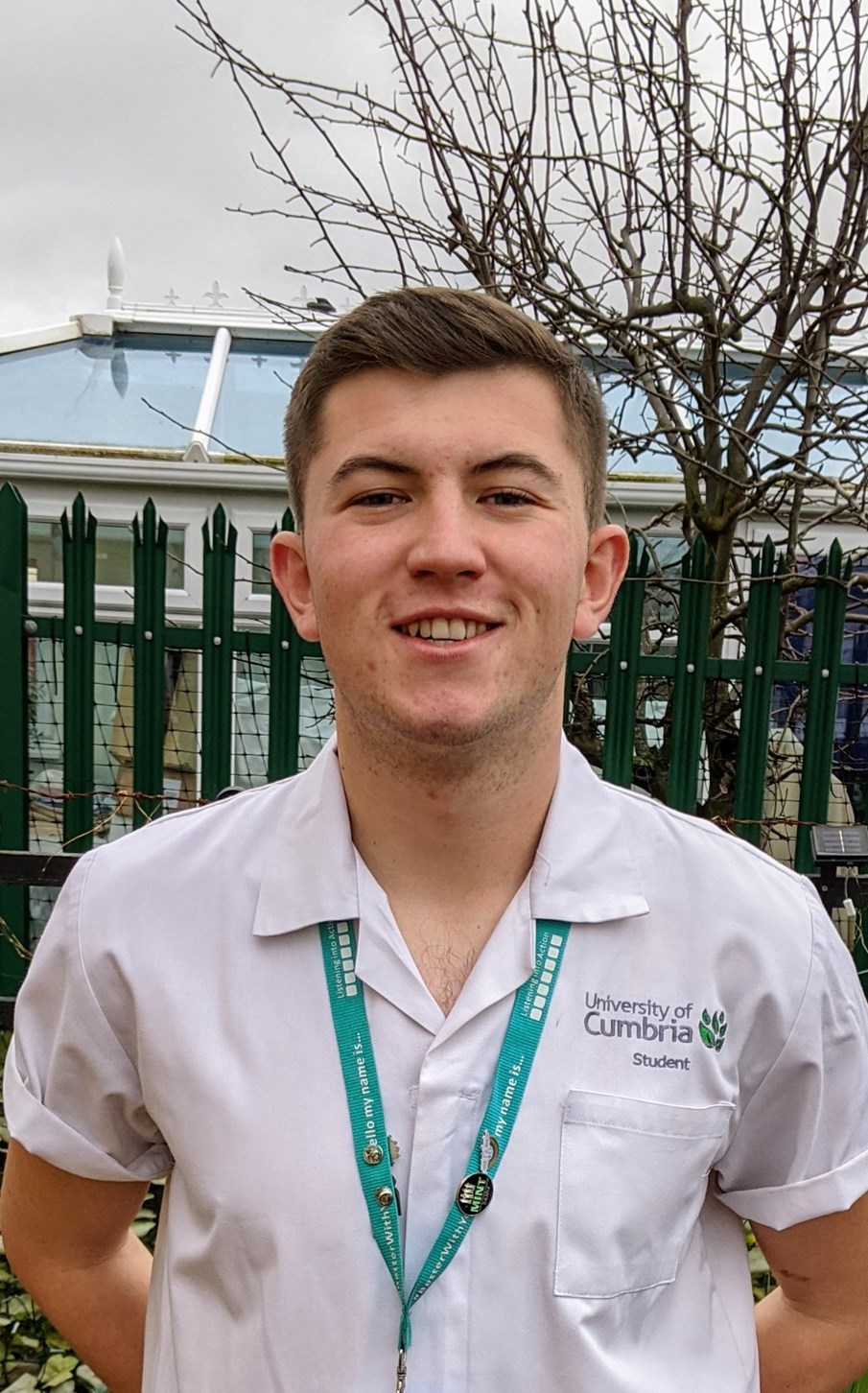 Student nurse describes covid placement as 'phenomenal experience'
** Reissue: correction to penultimate paragraph about placements**

With third year student nurses invited back on placements to support the NHS last month, two student nurses recall their experience of helping out on the frontline last march and how it helped them grow in confidence and ability.
Oliver Reynolds, 21, from Morecambe was in his second year of studying adult nursing when he agreed to go on the frontline at Lancaster Royal Infirmary for a covid placement.
Oliver worked on the respiratory ward, which was the primary ward for covid patients, where he felt the full brunt of the pandemic but said that the experience of learning under pressure in an acute environment was 'phenomenal'.
He said: "My experience on a respiratory ward was extremely challenging. There was so much pressure. My mind was that busy all the time and the pressure was tremendous.
"For part of my role, I was expected to communicate with patients with my mouth covered by wearing PPE, which in itself was extremely challenging as patients recovering from covid are often disorientated and confused.
"I'd never worked with patients who had required so much oxygen before and so it was a steep learning curve.
"I helped relatives maintain contact through iPad and FaceTime and I could hear them saying their final goodbyes. It felt inhumane at times but I was so was glad to help them at such a difficult time."
Oliver was inspired to become a nurse six years ago when he was still in school and his grandad was suddenly taken ill and rushed to A&E for COPD, a progressive lung disease. Although the experience was initially distressing, it went on to inspire a burgeoning interest in healthcare for Oliver.
Initially drawn to being a paramedic, he quickly changed his mind to pursue a career in nursing. The fast pace of A&E appealed, and it is there that he take up a job upon graduating later this year. 
His experience really brought home to him the importance of living life to the fullest. Some of the patients he cared for who were severely ill were the same age as his mum.
He continued; "It puts in perspective that we can't take things for granted. Not seeing friends, not going out. We all have to make sacrifices in order that everyone stays safe."
Students who opted in to covid placements didn't necessarily end up caring for patients on covid wards.
Ashley Gass, 25, from Carlisle a learning disability student nurse, worked in Carlton Clinic on a ward providing assessment and treatment for people with a learning disabilities and mental health issues.

She was lucky to have worked on the ward before and so she knew how it ran.
She said; "Opting-in and providing support to the NHS was not a difficult decision for me as I felt that it would be something I would have to do when I qualify so why not get the experience as a student nurse beforehand?
"I also felt that it could be a once in a lifetime experience to work throughout a pandemic and support the NHS, therefore it was always going to be a yes from me.
"During my placement I did not care for any patients with covid however we always took precautions, wearing full PPE which was challenging at times and even more so for the individuals we were supporting.
"Working during a pandemic allowed me to learn to adapt and change my way of working, it has also highlighted the importance of teamwork during these unpredictable times to be able to provide the best possible care to the patients."
Both Oliver and Ashley were approached to opt-in to covid placements again this year. Being at a different stage in his academic career, Oliver decided to focus on his studies so declined the offer.
Ashley decided to opt-in again as she said she would prefer to help out than stay at home studying.
She is now placed at the Ruskin Unit at the Cumberland Infirmary which is an assessment unit for suspected dementia patients, which is a completely new experience for her and a huge learning opportunity.
Final year nurses were asked to return to paid clinical placements to support the covid response with many having started their placements over the last few weeks.
It is important to stress that opting in to undertake a paid placement is entirely voluntary. 
For anyone who has ever thought about a career in nursing, or feels a call to action in the time of seeing so many suffer throughout the pandemic, check out the University of Cumbria nursing team blog - why become a nurse?
ENDS
Pictured: Oliver Reynolds
Ashley Gass