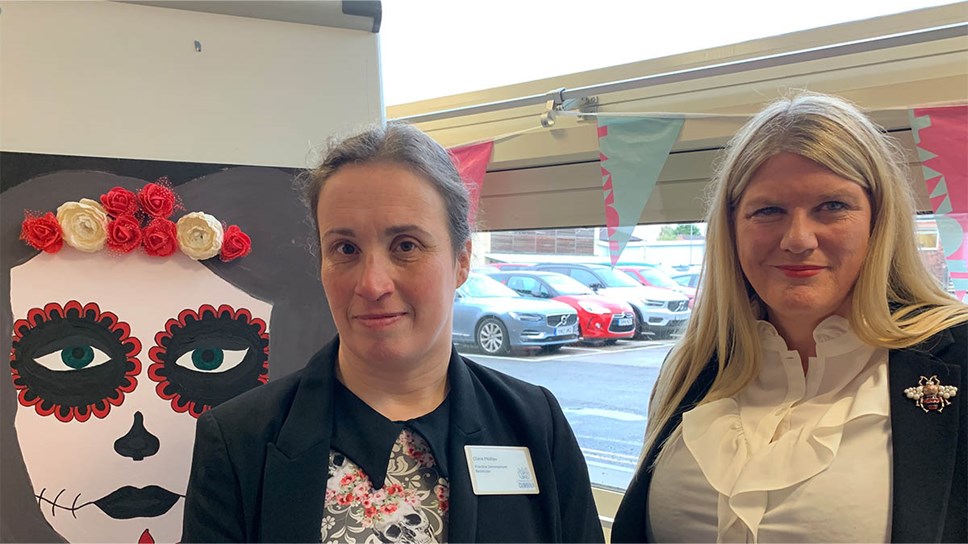 Tackling taboo of death: Day of the Dead conference sparks conversations for nursing and health students
A Day of the Dead conference is educating future nurses and healthcare professionals about how to tackle difficult conversations with patients and their families/carers about death and dying.
Coinciding with the date of the traditional Latin American Dia de los Muertos festival, staff at the university's respected Institute of Health have devised the event to help prepare their students for situations they may face during their upcoming professional placements in settings such as hospitals, hospices, and community health providers.
In a first of its kind, the 1 November event has attracted 200 students who are on university nursing and other health-related programmes delivered in Barrow, Carlisle and Lancaster.
Speakers and leading figures from health bodies, hospices, employers and charities have been collaborating with Institute of Health nursing academics to ensure students are developing skills that will help improve patient care during this often saddest and most challenging time of the human life cycle.
In-person workshops, activities and talks at the university's Fusehill Street campus in Carlisle have also been accessed by attendees online. Space was also given to the creation of a memorial wall where delegates and attendees have been able to remember and celebrate the lives of loved ones and friends.
Principal lecturer for Nursing Julie Mulinga, senior nursing lecturer Jeanne Landon-Campbell and university chaplain Revd Caroline Kennedy have been joined by fellow speakers including Karen Dutton, from Let's Talk Bereavement; Angela Wannop, Clinical Educator for End of Life, and donation liaison nurse, both from North Cumbria Integrated Care NHS Foundation Trust; University of Cumbria alumnus Laura Bell who is now a nurse at the Eden Valley Hospice, Carlisle; and representatives from Every Life Matters. 
Above: Professor Karen Stansfield delivering the opening talk at the Day of the Dead conference
Conference organiser Claire Phillips, Practice Development Facilitator – Nursing within the university's Institute of Health, said: "Death and dying is still often a taboo subject that many people are uncomfortable talking about, yet it is a subject that healthcare professionals need to be able to discuss confidently with the people and patients they support.
"My own background of working in the social care sector before entering academia, I've been aware of the issues surrounding the communication and care relating to dying and death and how students can potentially face these whilst they're on placements, potentially just a few weeks after starting their course.
"Therefore, my nursing colleagues and I have been working with a range of organisations so together we can support our students ahead of when they go out into placements where they hone their skills in professional settings, delivering care to patients."
Professor Dr Karen Stansfield is a professor of healthcare leadership and Dean of the Institute of Health at the university.
She said: "What we do as health professionals is focus on the quality of life of the people we work with. What makes me proud is how we support people at their most vulnerable moments whether this be due to ill health, the social determinants of health or dying. This innovative day helps us start conversations about how we perceive death and how we can support patients and their families cope with death, and the hope we can have to help manage these often very sad and sensitive situations and subject.
"As an educator of future nurses, midwives and allied health professionals, this conference is an example of our university mission to equip our graduates with the skills they need to go on to make a lasting impact in their chosen profession, enabling our communities to thrive and to make a difference."
ENDS
Notes to editors
Main photo: (l-r) University of Cumbria's Day of the Dead conference organiser Claire Phillips, Practice Development Facilitator – Nursing within the university's Institute of Health, alongside Dean of the institute Professor Karen Stansfield. 1 November 2023