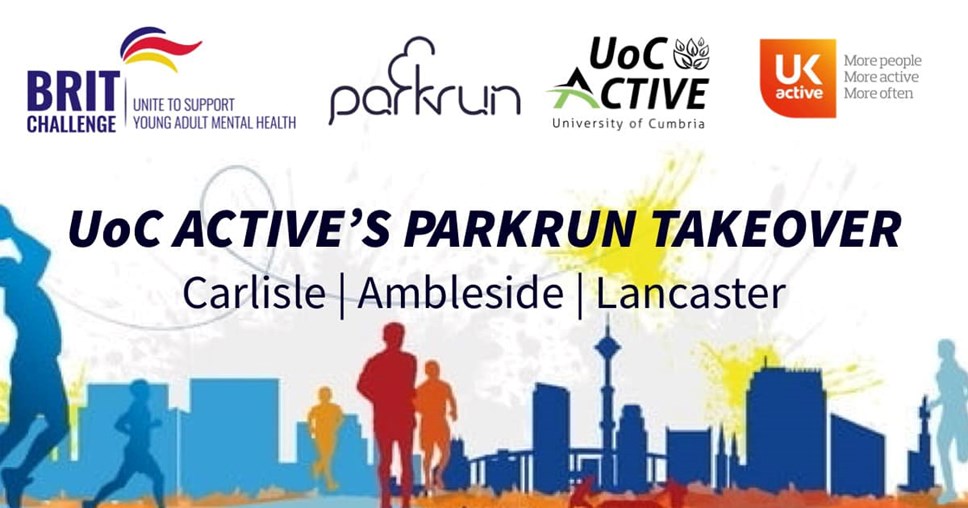 University of Cumbria takes over three Cumbrian Parkruns in March for Brit challenge
As well as three Parkrun takeovers, the university is encouraging its staff and students to set their own mini-challenges based on the theme of '23'.
In support of Brit Challenge, University of Cumbria staff and students are taking over three Parkruns near its landmark campuses in March.
The three Parkruns are Chances Park, Carlisle, Rothay Park, Ambleside and Williamson Park, and Lancaster. The university is calling for staff and students to staff them and take part.
The BRIT Challenge is an annual event aimed at improving the mental health and fitness of young adults and students throughout the UK and raise vital funds for local, regional and national charities, alongside BRIT.
This year's theme is '23' and sees the challenge run from 23 January to 23 March. Due to the cost of living crisis, the university is focusing on encouraging staff and students to participate in events that promote mental health and fitness, rather than fundraise for the challenge.
In addition to the Parkrun takeovers, the university is also encouraging staff to devise their own challenges based on theme 23, using the hashtag #23MinutesofMe. Challenges undertaken so far include 23 minutes of walking, 23 pages of reading per day, 23 minutes of ping pong, and trying to spot 23 sheep!
Andy Keir, deputy sports manager who heads up the university's Brit Challenge team, said: "The Brit Challenge is a fantastic way to focus on improving one's physical and mental health. The university is taking over three Parkruns in March to support the challenge, where our staff and students will be volunteering and participating. As well as the park run, we will be operating small pop-up sports massages for participants with our sports rehab students and also running opportunities to enter various competitions with plenty of prizes up for grabs! We look forward to welcoming people there."
Even though the university is not fundraising this year members of the public can still donate to the campaign through this link: https://giving.give-star.com/online/british-inspiration-trust/the-british-inspiration-trust-brit
The dates for the Parkrun takeovers are:
4 March Chances Park, Carlisle
11 March, Williamson Park, Lancaster
25 March, Rothay Park, Ambleside
Parkrun is a free, community event where you can walk, jog, run, volunteer, or spectate. Parkrun is 5k and takes place every Saturday morning. To find out about the local Parkrun or to register visit the website https://www.parkrun.org.uk/
The brainchild of the British Inspiration Trust, the BRIT Challenge is an inclusive feel-good fundraiser for the Higher Education and Further Education sectors. Every UK university, college, specialist college, and Students' Union is invited to register to take part, enter teams, and support student and staff participation, both on campus or at home.