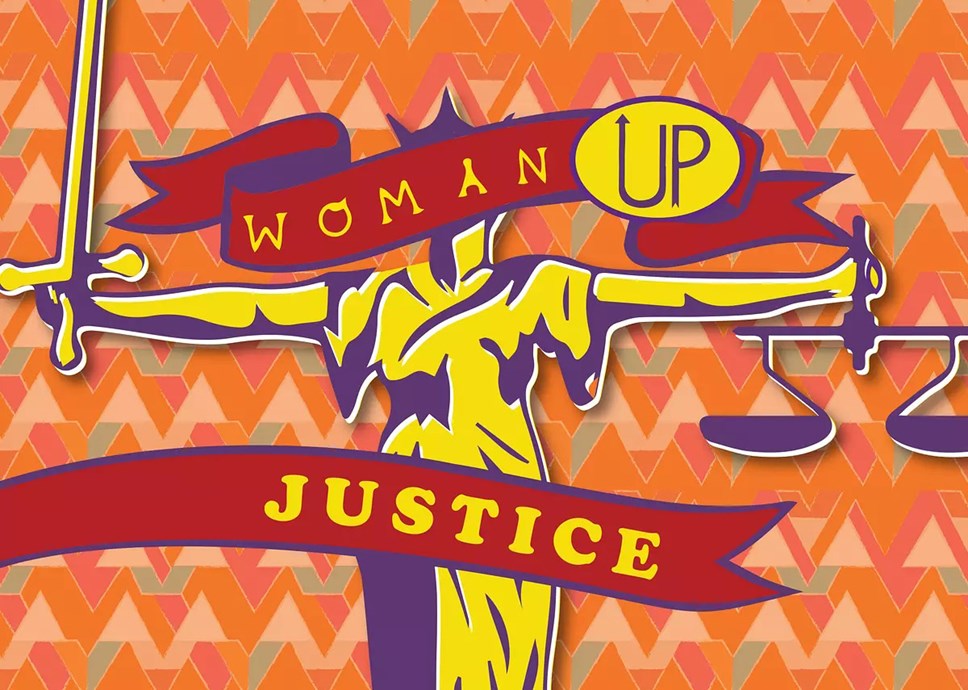 What does Justice for Women Mean To You?
University of Cumbria School of Justice is hosting a Woman Up Justice conference
To coincide with International Women's Day on 8 March 2023, Woman Up has collaborated with the School of Justice, at University of Cumbria, to host the first ever Woman Up Justice conference.
Taking place on Saturday 4 March 2023 on the university's Fusehill St campus in Carlisle, the conference will bring together women from all perspectives on the justice system who play a vital role in advocating for a more just, fair, and safer criminal justice system. There will be speakers, Q&A sessions, free self-defence classes and stalls.
The theme for the conference is 'What does justice for women mean to you?' and the keynote speaker for the event is Dame Vera Baird KC.
A high-profile British barrister and politician, Dame Baird has held roles as a Labour party MP and Government Minister, Solicitor General for England and Wales, Police and Crime Commission and Victims 'Commissioner for England and Wales. Dame Baird is also the author of books on rape, female murderers, and women's experiences in court. She was appointed Dame Commander of the Order of the British Empire (DBE) in the 2017 NY Honours for services to women and equality.
Other notable speakers include:
Dr Sue Hills - Alice Ruggles Trust
Dr Alison Armour - Home Office Forensic Pathologist – Lancashire
Kally Cheema - Senior Coroner, Cumbria
Amy Dixon - Senior Prosecutor, Newcastle,
Vicki Coombes - Detective Chief Inspector Cumbria Constabulary
Rachel Bale – Founder of HerBar, Barrister & women's rights campaigner.
Mina Banisaeid – Iranian campaigner for women's rights
Tyler Clark – Fitness entrepreneur with lived experience of giving birth in prison
Kelsey Marron - Young Barrister
Carolyne James, Senior Lecturer Criminology from the School of Justice at the University of Cumbria (pictured right) said: "As a forerunner to International Woman's Day 2023 we are privileged to host this conference bringing together an exceptional and unique set of women's voices, expertise and lived experiences on wide range of criminal justice, issues, concerns, and challenges."
Kirsty Hopley (pictured left) from Woman Up said: "This event is brimming with insider knowledge of the justice system and like never before, this justice conference will bring those perspectives together. From the prosecuted to the prosecutor and beyond we will explore what justice means to women today."
The event will take place in the Learning Gateway and you can purchase tickets here. Tickets are £12 with a small number of concessionary tickets available for those on low income, people with disabilities and students. If you require a concessionary ticket please contact womanupcumbria@outlook.com There will be an optional buffet at lunchtime and a chance to discuss the issues raised. There is also the opportunity to take free self-defence classes on the day. Participants are invited to join the team at an afterparty at Timmy's Bar and Kitchen. Please note, the event is most suitable for those aged 16 and over.
Notes to editors
Speaker biographies
Dr Sue Hills with her husband Prof Clive Ruggles set up the Alice Ruggles Trust after their daughter Alice, 24, was tragically killed by Trimaan Dhillon in Gateshead in October 2016. Dhillon, who relentlessly stalked Alice when she ended their brief relationship, was convicted of Alice's murder in April 2017 and jailed for a minimum of 22 years. The trust exists to raise awareness of stalking (including coercive control) to ensure that relevant legislation is effective and adhered to, and to bring about lasting improvements in the management of perpetrators and the protection of victims.
Dr Alison Armour - Home Office Forensic Pathologist - Lancashire & Cumbria. As an expert in her field, Alison carries out autopsies on suspicious and homicidal deaths for the police. Alison will share with us what it's really like to work with the dead.
Kally Cheema - Senior Coroner - Cumbria. Kally has an enormous wealth of experience of many aspects of the justice system in her distinguished career. Kally champions women in justice through her work.
Amy Dixon - Senior Prosecutor - Newcastle. Amy spent 15 years defending clients accused of crimes before she switched sides and is now an experienced member of the Crown Prosecution Service. Amy will share with us her experience of being on both sides.
Rachel Bale – Founder of HerBar, Barrister & women's rights campaigner. Rachel is a powerhouse of inspiration for all aspiring female barristers, she champions those who have experienced setbacks via her Future Lawyers programme.
Vicki Coombes - Detective Chief Inspector Cumbria Constabulary. As Cumbria's lead officer for dealing with rape and serious sexual assaults, Vicki will share her experience of how these offences are dealt with.
Mina Banisaeid – Iranian campaigner for women's rights. Mina arrived in the UK almost 4 years ago, moving from a regime that controls women through the morality police. Mina's lived experience will be shared and her views on the current situation in Iran.
Tyler Clark – Lived experience. Tyler hit rock bottom and found herself pregnant and in prison. Her baby was born behind bars yet she managed to turn her story around. Tyler is now a successful fitness coach and even appeared on SAS WHO Dares Wins. Tyler will be speaking and also providing free self-defence classes.
Kelsey Marron - Young Barrister. Kelsey dreamt of being a Barrister form the age of ten and started work aged 14 to afford it as, unlike her peers, she I came from a low income, single-parent household and was the first in her family to attend university. Kelsey will share what it's like to smash the class and glass ceilings.