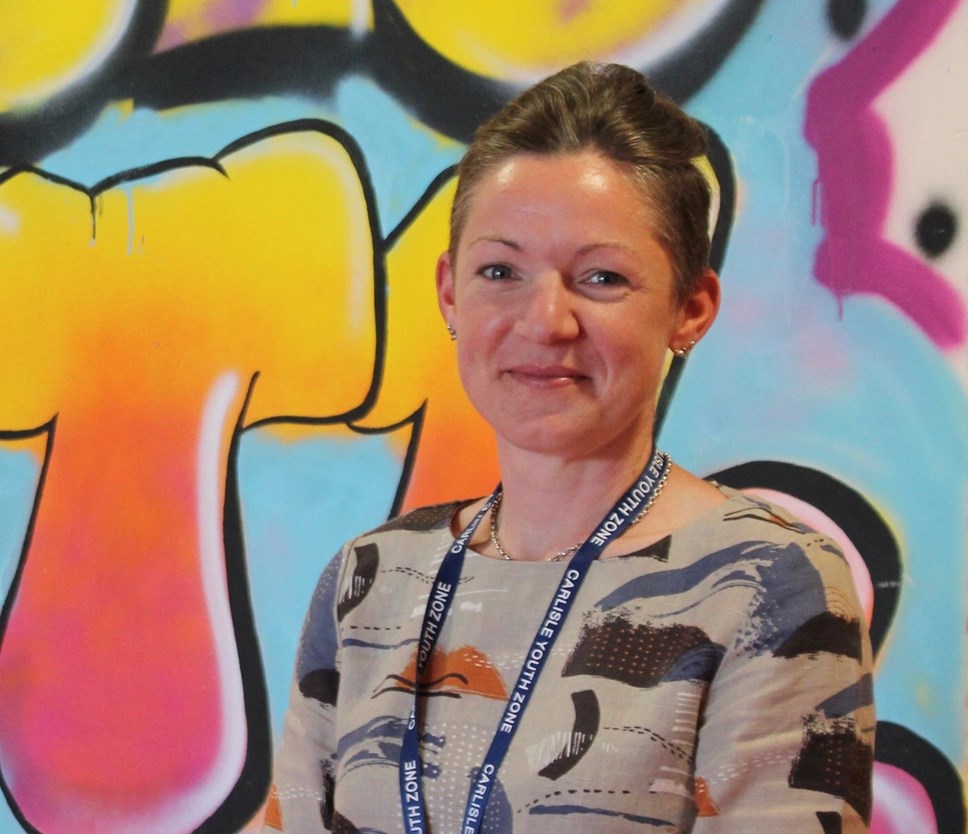 Youth work expert joins University of Cumbria as a Professor of Practice
An expert in youth work, children and young people's rights, and participation, Caroline Taylor-Beswick, Chief Executive of Carlisle Youth Zone (CYZ), has been appointed as a Professor of Practice at the University of Cumbria. Joining the university's institute of health, Caroline brings with her a wealth of experience.
The Professor of Practice role recognises individuals eminent in their field, recruited to enhance the curriculum, experience and environment provided for students and staff. It is an honorary role (held initially for 2 years), which will strengthen the connection and visibility of youth work, children's rights, and participation with and alongside the university.
Caroline joins the university during National Youth Work Week and is proud to be contributing to the week-long celebration of youth work in this way. On a day-to-day basis, her role will amplify and better platform the work we are already progressing together around youth co-research, health inequalities, arts and participation, and youth and society.
A University of Cumbria alumnus, Caroline completed a graduate diploma in youth & community development studies from St Martins College in 2007 after studying for her BSc (Hons) in sport & exercise science, also at St Martins College. Caroline is a qualified social worker and holds a master's in social work. Prior to joining CYZ, she was the programme manager for the Child Friendly Cities and Communities programme (CFC) with UNICEF UK, has held several youth work roles and has managed a countywide Children's Rights service.
Committed to advocating and enabling more young people to be seen and heard in our communities, Caroline said she is delighted to have been offered the opportunity to work with the university and she speaks passionately about what motivates her, saying: "I am honoured to have been invited to join the university as a professor of practice and I look forward to working with colleagues in the institute of health.
"What motivates me most of all by an appointment such as this, is the opportunities it provides to specifically highlight the contributions and impact that youth work has on the lives of children and young people, and to raise recognition and respect for children and young people as rights-holders in our society".
Caroline also volunteers as a trustee for the Boingboing Foundation, a charity set up to explore and develop research and practice that gets to the crux of how to build resilience in complex situations. She co-led the world's first Resilience Revolution which was piloted in Blackpool; a £12.4 million National Lottery Community Fund (NLCF) strategic programme that focused on identifying, testing and learning new ways to build resilience, challenge inequalities and improve mental health with, by and for young people aged 10 – 16yrs.
Caroline added "the Resilience Revolution adopted the phrase 'Nothing about us, without us', which has its origins in the disability rights movement. It really resonates with me".
"So often young people are spoken about and done to, and I don't believe this should be the case – championing and demonstrating research and practice which adopts rights-based participation approaches will continue to be a key focus for my work."
The University of Cumbria's Institute of Health offers undergraduate and postgraduate programmes across a range of health disciplines including nursing, midwifery, paramedic science and allied health professions. It also has plans to launch a level six apprenticeship in youth work which will be in place, subject to validation, for September 2024.
University of Cumbria Deputy Vice Chancellor, Professor Brian Webster-Henderson said: "We're delighted to have Caroline join our team as a Professor of Practice. Her experience is extensive as is her expertise in strategic leadership.
"With that, and her passion for supporting the development of children and young people, we know that this collaboration will positively help the university in its mission to transform lives and livelihoods for generations to come."