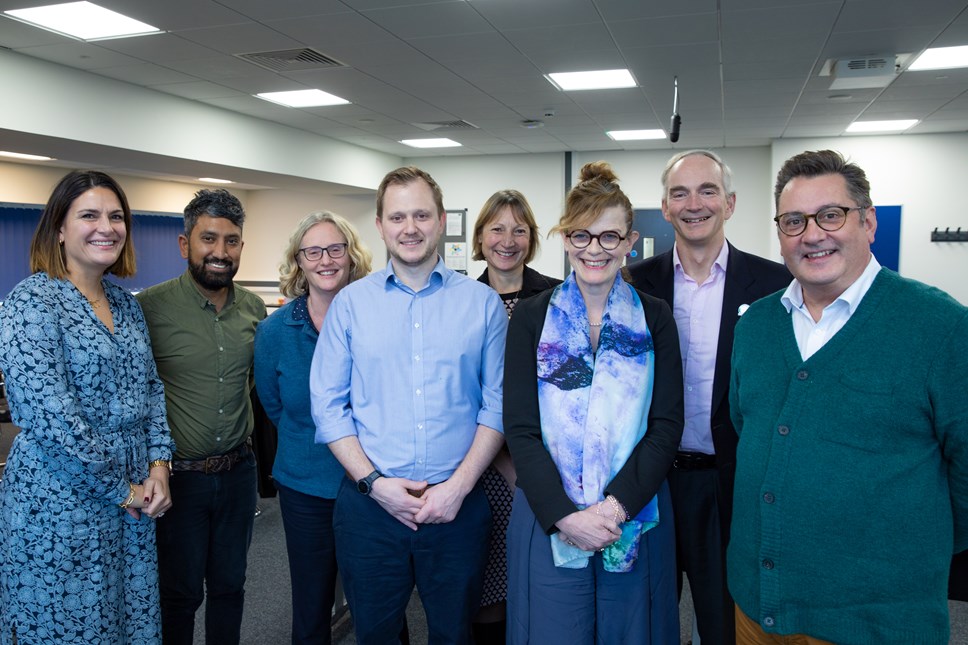 Five-million-pound gift creates The Pears Cumbria School of Medicine
The creation of Cumbria's first medical school, a partnership between University of Cumbria and Imperial College London, has taken another step forward with £5 million in philanthropic support from Pears Foundation.
Pears Foundation, a family foundation 'driven by a desire to demonstrate the good that philanthropy can achieve in the world', has provided the donation to support the development and launch of the new school.
Following the publication of the first ever NHS Long Term Workforce Plan, the new medical school will play a crucial role in delivering on the ambition to train more doctors. Specifically mentioned in the workforce plan, The Pears Cumbria School of Medicine is the result of a shared vision to train more medical professionals to serve their local communities in the regions with greatest need.
The Pears Cumbria School of Medicine will open its doors in autumn 2025 and welcome its first 50 graduate-entry medical students to the University of Cumbria's Fusehill Street Campus in Carlisle.
The University of Cumbria and Imperial College London first announced the ambition to create the new Carlisle-based medical school in April 2022, with a core mission to train new doctors for Cumbria and North West England, transforming healthcare in local communities.
This unique partnership will offer a four-year graduate-entry programme with a bespoke curriculum, specifically designed to meet the needs of the region. This has been achieved through co-creation with regional NHS partners, and is designed to support the retention of doctors in Cumbria and the North West.
Led by Professor Mary Morrell, Head of The Pears Cumbria School of Medicine, it has united University of Cumbria's expertise in the education of nurses, midwives, and a wide range of allied health professionals with Imperial's reputation as one of the world's best medical schools to improve the region's access to world-class clinical care.
Professor Mary Morrell (pictured left) said: "I'm absolutely delighted that generous support from Pears Foundation has helped to make our new medical school for Cumbria a reality.
"We are so excited that we will welcome students to this bespoke, innovative and research-informed, graduate-entry medical school in 2025.
"We have now released information for those wishing to apply and ultimately serve the region as future doctors."
Students at The Pears Cumbria School of Medicine will benefit from exposure to clinical practice early within their training. This will be complemented by campus-based medical sciences teaching, incorporating clinical skills training and multi-disciplinary learning. They will also complete a community-based prevention and healthcare delivery project.
The school's personalised professional development tutoring programme will support students' progress and career development, alongside a wealth of resources to structure their learning and inspire innovation in medicine and healthcare.
Sir Trevor Pears (pictured right), Executive Chair of Pears Foundation, said: "The vision for the Pears Cumbria School of Medicine – to train doctors with a specifically local medical expertise – is incredibly compelling. It is hugely exciting to be playing a role in opening a medical school in a place that is markedly "under-doctored".

"The opportunity to join forces with a university with genuine international scientific pedigree and another with incredible expertise in recruiting and training local healthcare key workers was too compelling to miss.

"Pears Foundation makes long term investments in initiatives that we believe will have meaningful and in-depth impacts. This is something we are sure the new Pears Cumbria School of Medicine will achieve.

"And it will also place Cumbria in the vanguard of the way we think about the future of the NHS."
University of Cumbria Vice Chancellor, Professor Julie Mennell said: "We are enormously grateful for the support from Pears Foundation which enables us to take our plans forward in creating The Pears Cumbria School of Medicine.
"As we move towards 2030, our vision is to transform lives and livelihoods through learning, applied research and practice - for now and for our future generations.
"We work in and through student, educational, employer, sector and place-based partnerships and collaborations, co-creating approaches, content and solutions which meet our student and stakeholder needs, The Pears Cumbria School of Medicine in partnership with Imperial College London is one such example of this."
Information for applicants
All applicants applying to the Pears Cumbria School of Medicine are required to take the Graduate Medical School Admissions Test (GAMSAT). Applicants are required to register for GAMSAT and to follow all instructions from the test administrator. The GAMSAT results will be made available to the admissions team prior to the applicant's intended entry to the programme. To apply in 2024 for the programme commencing in 2025 only results from March 2023, September 2023, March 2024 and September 2024 can be used. Applicants who do not apply for the GAMSAT sitting by the required date will not be considered. Find more information about The Pears Cumbria School of Medicine, including how to apply for 2025 entry, on our website www.cumbriamed.ac.uk
The programme is subject to ongoing quality assurance by the General Medical Council (GMC).
Notes to editors
Main image
Pictured - PCSM team members L-R Dr Emma Keeling (Associate Dean for Educational Partnerships, Imperial College London Faculty of Medicine), Dr Sohag Saleh (Principal Teaching Fellow, Imperial College London), Dr Helen Manns (Director of the Institute of Science and Environment, University of Cumbria), Tom Davidson (Associate Professor Paramedicine, University of Cumbria), Dr Karen Frame (Honorary Clinical Senior Lecturer, Imperial College London), Prof Mary Morrell (Head of The Pears Cumbria School of Medicine), Mr Martin Lupton (Vice Dean Education, Imperial College London Faculty of Medicine, Prof Brian Webster-Henderson (Deputy Vice Chancellor, University of Cumbria)
Additional Quotes
Professor Hugh Brady, President of Imperial College London, said: "We are proud to partner with the University of Cumbria to train the next generation of doctors who will provide world-class clinical care for the local community. This important milestone brings us one step closer to achieving our vision, and we are very grateful to Pears Foundation for their generous support which is helping to bring the school to life."
University of Cumbria Deputy Vice Chancellor Professor Brian Webster-Henderson said: "By combining our experience in educating nurses, midwives and allied health professionals with Imperial's world class medical science, we will be able to offer high quality and research informed education to the medical practitioners of the future. We have been working with our Imperial colleagues to develop a curriculum and a partnership which will be distinctively local and designed to drive innovation in medical education and research. And now, with support from Pears Foundation we can realise our vision for The Pears Cumbria School of Medicine."
About Imperial College London
Imperial College London is a global top ten university with a world-class reputation. Imperial's 22,000 students and 8,000 staff are working to solve the biggest challenges in science, medicine, engineering and business.
Imperial ranks sixth in the 2024 QS World University Rankings and eighth in the 2024 Times Higher Education World University Rankings. The 2021 Research Excellence Framework (REF) found that it has a greater proportion of world-leading research than any other UK university. It also received a Gold Award in the 2023 Teaching Excellence Framework (TEF). Imperial was named University of the Year in the Daily Mail University Guide 2024, University of the Year for Graduate Employment in The Times and Sunday Times Good University Guide 2024, and awarded a Queen's Anniversary Prize for its COVID-19 response.
About Pears Foundation
Pears Foundation is an independent British family foundation. Led by the Pears family alongside a professional team, the Foundation invests around £20million each year in a wide range of charitable organisations and causes in the UK and internationally.
The Foundation is known for its relational approach, building long-term relationships with grantees and often giving unrestricted funding and support beyond grants.
Pears Foundation's work is broad ranging, spanning health, education, poverty alleviation, social action and civic engagement. The Foundation's priorities include creating opportunities for young people to engage positively in their local community and reducing barriers to participation in society.
The Foundation has supported a number of strategic initiatives in the health sector including innovative collaborations that bring together philanthropy, medicine and research.