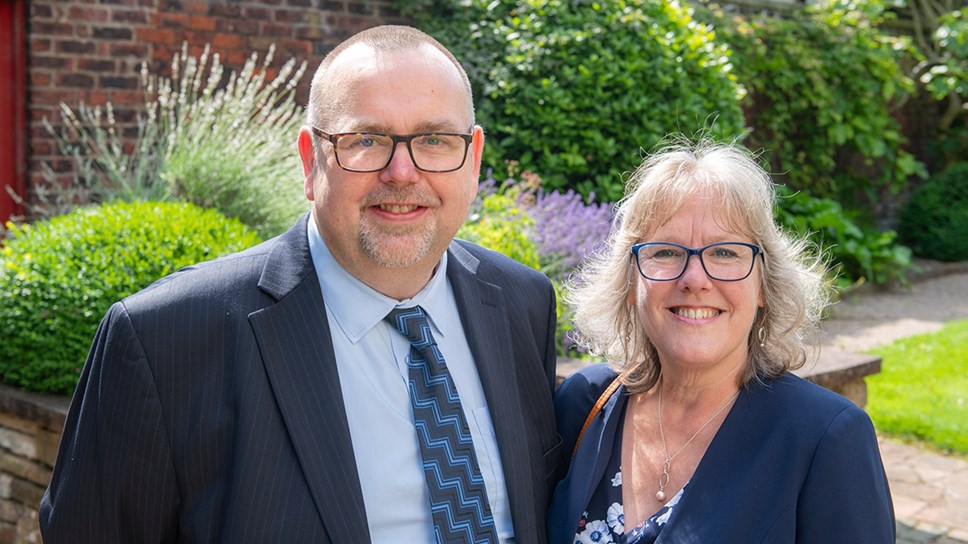 Graduations mark end of Lancaster couple's 40-year campus connection
In the early 1980s, Ian Sinker and his future wife Mandy were students on the Lancaster campus which is now part of the University of Cumbria.
Almost 40 years on, this week Ian's long, distinguished career with the university and its legacy St Martin's College campus has come to an end, as they retire.
Ian officially retired from his role as an Associate Professor at the University of Cumbria on Wednesday. The following day he and Mandy were VIPs at the final day of the university's summer 2023 graduations at Carlisle Cathedral.
Eight ceremonies across three days saw more than 1,000 graduands celebrating after completing programmes either on campuses in Lancashire, Cumbria and London or off-site through employer-based or distance learning, including degree apprenticeships in a range of areas including paramedic practice.
Mandy also retired this week following a successful career in teaching and school leadership, which itself has been shaped by the Lancaster university campus and its strong tradition of delivering teacher training.
The couple first met as undergraduates at St Martin's College, in the 1980s a year apart, gaining their places at university through Clearing. They also each lived, at different times, in the William Thompson Hall student accommodation tower block on the Bowerham Road campus in Lancaster.
Above: The Sinkers wedding party pictured in front of The Keep, on the Bowerham Road campus, Lancaster
So special is their connection to the campus that they were married by the college chaplin in the campus chapel in May 1989, enjoying their reception afterwards in the 'Junior Common Room'.
Above: Ian and Mandy Sinker on their wedding day in 1989
Originally from Leeds, Ian, the first in his family to go to university, also studied at the college's Urban Study Centre in the capital, which is now the University of Cumbria London campus.
Believers in the transformative power and role of education, both Ian and Mandy have spent time as public servants, working for local authorities in Lancaster and Lancashire. They have also both taught and forged careers in supporting young people, disadvantaged and vulnerable groups, and helping to widen participation in higher education.
Whilst working in Lancashire's youth work sector throughout the 1990s, Ian welcomed St Martin's College students on placements. By the end of the decade, Ian had joined the staff of St Martin's College as a senior lecturer and postgraduate programme leader in Youth and Community Work.
And it is where Ian, now 57, spent the rest of his working life. He progressed to Principal Lecturer and then Head of School, the role within which he moved into when the University of Cumbria was created in 2007.
Since then Ian has held several roles, latterly as a Director of Employer Engagement and Professional Development in the university's Institute of Business, Industry and Leadership.
In 2021 Ian was also Awarded the Title of Associate Professor (Workforce Education and Development). He has played a pivotal role in establishing new curriculum areas at the university including Policing, Project Management, Supply Chain and Logistics, alongside establishing key and significant employer and educational partnerships such as the University of Cumbria Project Academy that focuses on providing a wide-ranging portfolio of project management programmes and involves collaborations with major employers including Sellafield Limited, BAE Systems, the BBC and the NHS.
Mandy went back to St Martin's College and completed her Post Graduate Certificate in Education (PGCE) in Primary Teaching, returning to learning following a career break when the couple welcomed their two sons, Joe and Matt.
She has gone on to work in a number of schools during her career including Deepdale Junior School in Preston and Torrisholme Primary School, Morecambe, before becoming Deputy Headteacher at Ridge Primary School in Lancaster in 2008 and then Headteacher of Brockholes Wood Primary School in Preston in 2013.
During her career, Mandy has also facilitated placements for students from the University of Cumbria and its predecessor St Martin's College.
Both Ian and Mandy attribute much of the success in their careers to the foundation laid during their time at St Martin's College, and their continued professional development.
The couple is looking forward to spending time with family and friends and travelling.
Ian said: "The University of Cumbria and predecessor college have both had a significant impact on us and we hope that in some way that this has been reciprocated.
"Whilst the University of Cumbria is now much larger, broader and geographically spread across the North West and beyond, the legacy of the college can still be seen within the university's vision, culture, inherent behaviours, relationships, and commitment to its learners and the region.
"We accord with the sentiment of 'Long may the University of Cumbria Prosper!' and hope that it will continue to have a positive impact on the lives of many both directly and indirectly."
Mandy, 59, said: "We've had a really long relationship with the university and the campus that has been empowering for both of us, and a delight. It is lovely to be able to finish it off by attending these celebrations."
WATCH: Ian and Mandy reflect on their association with the University of Cumbria Lancaster campus