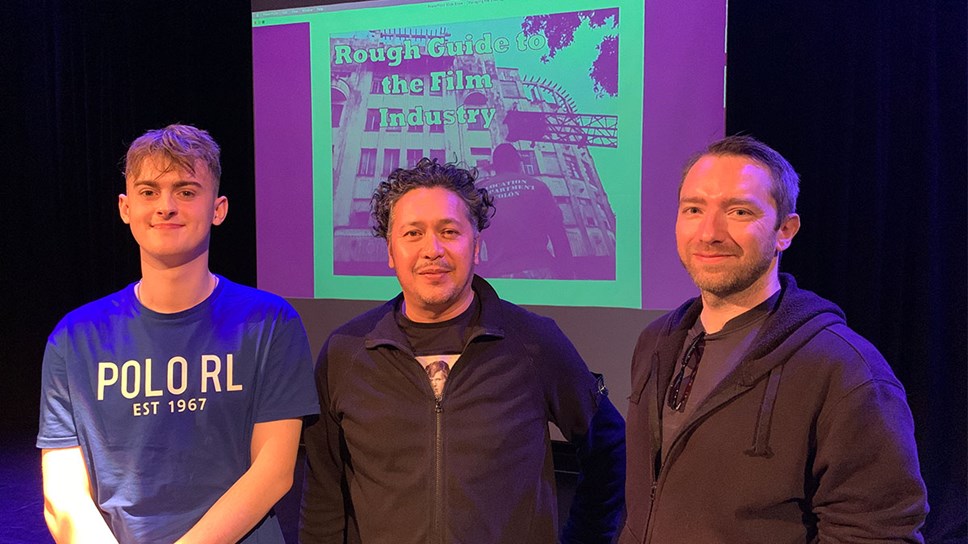 Homegrown media talent shares Hollywood expertise with students
Enjoying a career travelling the world as a location manager for major movies and productions, Mally Chung has been back to the university campus where he studied to inspire the next generation honing their skills in his home city.
Imparting his insight and experience from his successful 25-year TV and film career so far, Mally has led an industry workshop at the University of Cumbria's Institute of Arts.
Fifty Media Arts students, including a cohort studying at Carlisle College, gathered at the university's Stanwix Theatre for the workshop.
Mally spoke about how he started as a DJ in the city before studying media as a mature student, where he was offered his first opportunity to work in the industry as an assistant on a short film. Born and raised in Carlisle, Mally still lives in the city with his family.
Over the last 25 years, Mally's production experience and career has developed from stints working in Ullswater, Alston and other Cumbrian locations for television dramas such as Dalzell and Pascoe, The Lakes and Oliver Twist before moving into films such as Stormbreaker, The Queen and onto Hollywood blockbuster franchises such as Bond and Star Wars.
He has also helped bring several major productions including Star Wars to Cumbria, putting the region's world-famous and breathtaking landscapes on movie makers' maps.
The University of Cumbria also hosted a screening of Atonement, one of the films that Mally has worked on, before welcoming 140 people to the free 'On Location – An Evening with Mally Chung'. The 'In Conversation' style event saw Mally chatting with university Institute of Arts principal lecturer Michael Mitchell.
(l-r) Institute of Arts principal lecturer Michael Mitchell with Mally Chung
An Honorary Fellow of the University of Cumbria, Mally said: "I work in an industry that can be challenging, fast-moving and so rewarding. It is a privilege to share my experiences with students to encourage and support them as they prepare for the world of work.
"If they have good communication skills, the energy and a commitment to learning there is no better industry to be in. I was overwhelmed that so many friends and supporters came to the evening event to hear my story. Carlisle and Cumbria is a special place and if I can assist in bringing film companies to the region that will help boost the economy and grow tourism but also prove that it is a great place in which to live, study and work."
Michael Mitchell, principal lecturer at the University of Cumbria's Institute of Arts, said: "It is a thrill to welcome Mally back to campus. He is such a supporter of the university and we appreciate and know that he comes back as often as he can. We work with Mally and many other industry professionals to inspire our current and future students through events like this and other initiatives including real-life, professional projects and opportunities."
WATCH: Mally talks about returning to University of Cumbria inspiring students
First-year Film and Television student Andrew Carswell and final-year student Matthew Athroll (both pictured, main image with Mally) were among those who attended the events.
Andrew, on his 40th birthday, said: "Mally's insight has shown me that there's a plethora of opportunities out there. I've come to university as a mature student and I'm really enjoying learning more about all areas of production. It is amazing to hear from someone like Mally who has been in a similar position, and learn more about the skills and attributes that you need to work in the industry."
Matthew added: "Mally's doing what I want to do so it's really insightful to hear from him. It's good to see where he's come from, where he is now in terms of his career so I can look to replicate and emulate that when I finish university.
"His advice included talk to everyone you can in the industry and try everything, take every opportunity you're given."
Debbie Sweeney, media lecturer at Carlisle College, said: "The students will really benefit from meeting someone local who has a successful career in film. We're delighted to have been invited along to join in the event. It is fantastic that Mally is giving his time to talk to them and share his knowledge and give advice."
ENDS
Notes to editors
Biography
Mally was born in Carlisle and studied Media at Cumbria Institute of the Arts.
Whilst working on a student film a chance meeting with a BBC Location Manager resulted in him joining the BBC as Unit Manager for the drama "The Lakes" filmed around Lake Ullswater in 1998. During the next eight years he worked on a number of television programmes and including "Dalziel & Pascoe", "Clocking Off" and "Fat Friends" Several years later he began working in Films one of the earliest being Academy Award Winner "The Queen" by Stephen Frears.
In 2008 he joined the James Bond family working on "Quantum of Solace" then "Skyfall". Other films include "Sherlock Holmes", "Robin Hood", "War Horse", "Wrath of the Titans", "Atonement" "Fast and Furious 6", and the latest Star Wars trilogy: "The Force Awakens", "The Last Jedi" and "The Rise of Skywalker".
Mally has had the great fortune to work with the likes of Stephen Spielberg and Clint Eastwood and has gone on the manage parts of "The Witcher" for Netflix, Marvels "The Eternals" the latest James Bond instalment "No Time To Die" and "Willow" for Disney/Lucasfilm.