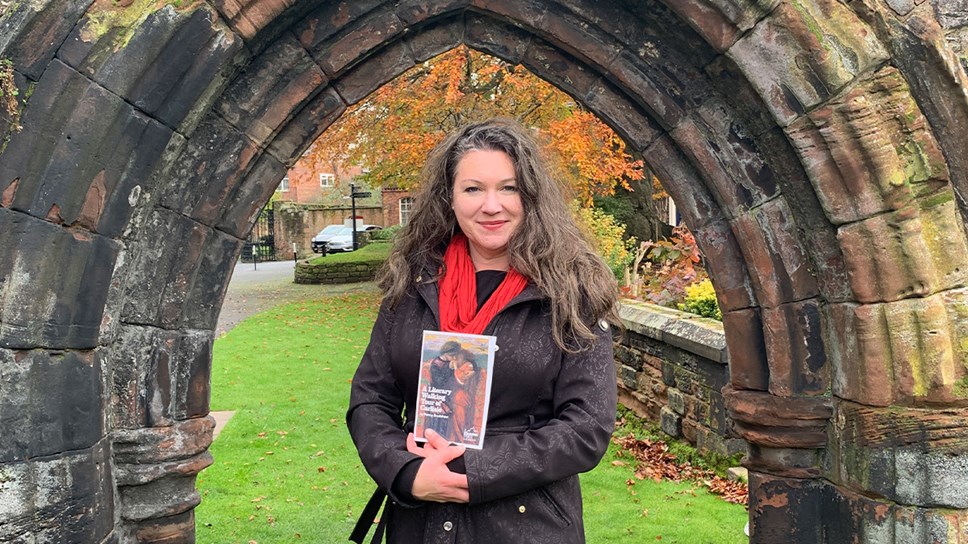 New literary walking guide to Carlisle published
The rich literary heritage of Carlisle is celebrated in a new walking guidebook by Dr Penny Bradshaw, Associate Professor of English Literature at the University of Cumbria.
A Literary Walking Tour of Carlisle is published this autumn. It details the city's long history of literary associations through a half-day walk, accompanied by words of many celebrated poets and novelists who visited or had connections with the city, including the Wordsworths, Sir Walter Scott, Charles Dickens, and Melvyn Bragg.
Beginning on the shores of the River Eden at the edge of Rickerby Park, the walking tour takes in a number of key locations which have inspired authors from the medieval period to the present day.
Locations include Carlisle Cathedral, where this month the university hosts its annual autumn graduations, as well as the Citadels and neighbouring railway station.
The pocket-sized guidebook is written by Dr Penny Bradshaw, thematic lead for Cultural Landscapes within the research Centre for National Parks and Protected Areas at the University of Cumbria. Penny (pictured, right) is also Programme Leader for the MA in Literature, Romanticism, and the English Lake District, based at the university's Ambleside campus.
Penny is also appearing on screen at this month's Kendal Mountain Festival, starring as popular Gothic novelist Ann Radcliffe who wrote an influential account of her 1794 visit to the Lake District.
Penny joined a team led by Lancaster University academic Professor Simon Bainbridge for the recording of three short films that recreate historic climbs by literary figures inspired by the Lake District.
Above: Recreating Ann Radcliffe's Lake District ascent of Latrigg
Dressed in period costume, Penny took on the role of Radcliffe on horseback and rode as far as Latrigg, along with another actor who played the part of Radcliffe's husband. The In the Footsteps of Romantic Explorers film to be screened on November 19 focuses on this.
Penny says: "I am interested in the ways in which our imaginative responses to place develop and evolve over time, but also in the powerful sense of place-identity which emerges when you bring together literary responses from a wide range of historical contexts. In the case of Carlisle, it's the city's complex borderland status which has been central to both its history and the way in which it has been presented in literature. This has resulted in a unique and fascinating body of place-inspired writing."
Professor Julie Mennell, Vice Chancellor of the University of Cumbria, says: "Carlisle as a city of culture has much to offer and Penny's new guide is a welcome addition that shines a light on its long and rich history of literary associations. Not only celebrating the city's heritage, it also highlights some of the very reasons that continues to make Carlisle so unique and important to our wider Cumbrian and Borderlands region, from the environment to society and the economy.
"From the natural beauty of rivers like the Eden to the much-loved architecture and landmarks that are retained and in use, this literary walking guide exemplifies how Carlisle's cross-border role continues to enthuse and inspire so many of us today and into the future as it has done for centuries, including our upcoming Citadels campus development in the heart of the city centre that will be transformative not just in the educational opportunities it brings students and graduates but through the part it will play in terms of supporting the vibrancy of our regions and its businesses, employers and communities now and for generations to come."
A Literary Walking Tour of Carlisle is a Countrystride Guidebook and is published by Inspired by Lakeland.
She is also the author of two other literary tour guides: Literary Lancaster (2016) and A Literary Walking Tour of Ambleside (2021). Her latest publication completes a unique trilogy, showcasing the campuses where Penny has worked during the course of her 20-plus year career at the University of Cumbria and its legacy institutions, where she was also a student.
A launch event for A Literary Walking Tour of Carlisle held recently forms part of the university's Arts@60 activities marking 60 years of arts education from the Brampton Road campus in Carlisle.
* Copies of A Literary Walking Tour of Carlisle can be purchased at https://tinyurl.com/bdey49wx
* The three-short film series In the Footsteps of Romantic Explorers: Recreating the Climbs of Three Early Lake District Adventurers will be screened at The Box at Kendal Museum as part of the 2023 Kendal Mountain Festival. Information and booking details at https://tinyurl.com/3x6ahrsz
Notes to editors
Penny's other publications include Ann Radcliffe's Observations During a Tour to the Lakes (2014) and The Lake Poems of John Wilson (2012).