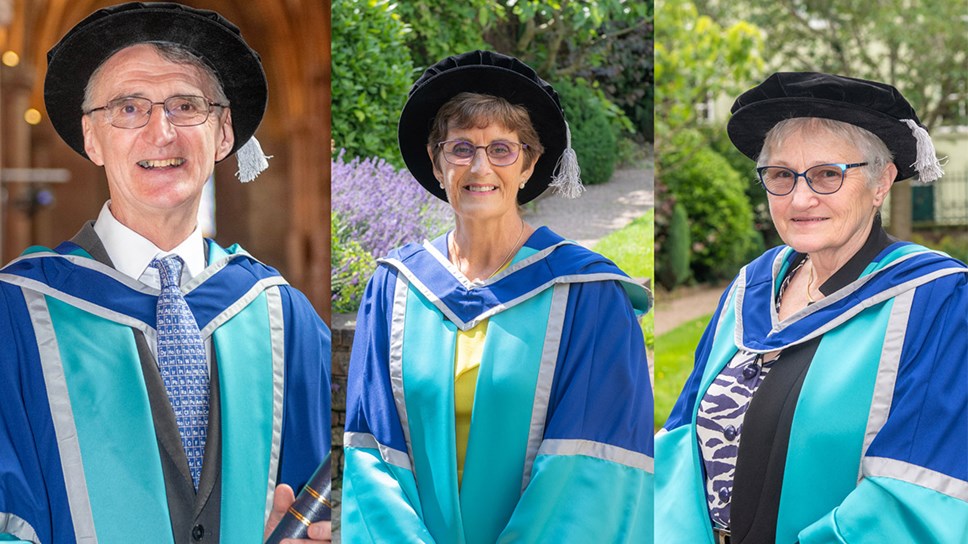 Three receive honorary doctorates from Cumbria
Two of the country's greatest engineering and education ambassadors and an internationally respected leader of occupational health education have received Honorary Doctorates from the University of Cumbria.
They are:
Professor Graham Wren OBE FREng FRSE
Born in Workington and schooled in Cockermouth, Graham joined the Workington Steelworks as an apprentice in 1976.
The first in his family to continue in education after the age of 16, Graham went to a local night school before gaining a place at Newcastle University to study Mechanical Engineering, graduating in 1985. He then worked as a Project Manager for UKAEA at Sellafield and across the UK.
He was director of the Forensic Science Laboratories, the RAF Aviation Toxicology Service, and later a senior civil servant before joining the private sector.
From 1994 and over the following two decades he worked in and ran major companies such as GSE Systems in Europe and was also involved in regeneration projects such as Gen2, Energus, and the Westlakes Science Park in Cumbria.
He has been a director on more than 30 company and research centre boards and represented the UK Government to the Organisation for Economic Co-operation and Development (OECD) and the Nuclear Energy Agency (NEA). He has given evidence to UK Parliamentary select committees and has sat on numerous government and industry committees.
Graham is now Senior Executive and Special Advisory to the Principal at the University of Strathclyde. Since 2008 he has overseen several ambitious projects to drive engagement with industry including the Power Networks Demonstration Centre and the National Manufacturing Institute in Scotland. The combination and impact of these research centres has raised more than £1.3billion for industrial research in the UK.
A Chartered Engineer and Chartered Director, Graham is a Fellow of the Institute of Engineering and Technology, a Fellow of the Institution of Mechanical Engineers and a Fellow of the Institute of Directors.
He is also a Fellow of the Royal Academy of Engineering which represents the nation's best engineers and innovators, and a Fellow of the Royal Society of Edinburgh – Scotland's National Academy of Letters and Sciences.
In 2019, Graham was awarded an OBE in the Queen's Birthday Honours List, in recognition of his services to Education, Science and Engineering.
Graham is also known for his charity work, which has included supporting the Cadets and the Duke of Edinburgh Award scheme.
Graham has been married to Fiona for over 40 years. They met at school in Cockermouth. They have two children, Alex and Peter, who are both engineers.
VIDEO: Watch Graham reflecting upon his Honorary Doctorate, including a special message to graduands
Professor Patricia Anne Harriss RN SCPHN FRCN FFOM (Hon) FRSA NTF Queen's Nurse
Professor Anne Harriss is acknowledged nationally and globally as a leader within Occupational Health education.
Initially training as a nurse and later in occupational health, from the start of Anne's career as an educator she has driven the education of occupational health nurses. She has taught many of today's Occupational Health Nurse leaders, encouraging many of them to make successful applications to become a Queen's Nurse.
Professor Harriss has influenced the establishment of the National School of Occupational Health and the curriculum standards for occupational health nursing courses of statutory bodies such as the English National Board for Nursing and Midwifery and the Nursing and Midwifery Council.
She has developed and led a public health project for communities in a rural part of South Africa for many years. Anne has also influenced the education of occupational health nurses in New Zealand and will be supporting the education of nurses in Sri Lanka.
An interest in mental health also saw Anne being the lead adviser in 2020 for the Society of Occupational Medicine and the Royal College of Nursing Foundation systematic review The Mental Health and Wellbeing of Nurses and Midwives in the United Kingdom.
Anne is also a member of the Royal College of Psychiatrists special interest group on mental health and work and represents the Society of Occupational Medicine on the Government business dialogue on workplace mental health.
Anne has delivered training to organisations as diverse as Formula 1, the military, higher education, NHS and third sector organisations. She has also been integral to the development of a plethora of Covid-19 resources supporting health professionals and employers produced by the Society of Occupational Medicine.
Anne is a Queen's Nurse, Fellow of the Royal College of Nursing, Honorary Fellow of the Faculty of Occupational Medicine, Principal and National Teaching Fellow of the Higher Education Academy and Fellow of the Royal Society of Arts.
In 2020 Professor Harriss was elected President of the Society of Occupational Medicine – the only non-physician to be president in the society's near 90-year history. With her presidency coinciding with the pandemic, her work nationally and internationally influenced a range of Covid related policies and interventions.
Anne continues to represent the Royal College of Nursing on the development of specialist occupational health nursing education through the National School of Occupational Health and the Council for Work and Health and is Emeritus Professor at London South Bank University.
VIDEO: Professor Anne Harriss reacting to her Honorary Doctorate, including her opinion of the quality of University of Cumbria's Occupational Health programme.
Professor Helen James OBE EurIng CEng FIMechE FHEA BSc (Hons) MA DBA
Barrow born and raised, Helen has enjoyed a distinguished career, with outstanding contributions to the engineering profession, women in STEM, education and over 20 years strategic leadership advocating universities as a catalyst for social mobility and economic growth.
Helen was one of the very first female Apprentice Mechanical Engineers at the town's famous shipyard. Excelling in her studies, she was the first in her family to go to university when she was sponsored to embark on her undergraduate degree, a BSc (Hons) in Engineering at the University of Leicester. She then went to Portsmouth to work in the space industry before later moving into tertiary and higher education, progressing in a number of roles. In 2001, she was invited to join a new senior team to create a new university for north east Wales.
Later she served as a Pro Vice Chancellor and Deputy Vice Chancellor at Canterbury Christ Church Univrsity and then was lead for the Kent and Medway Engineering, Design, Growth and Enterprise Hub, a major collaboration to grow the economy through science, engineering and technology and securing a sustainable workforce for the future.
Believing passionately in enabling access to STEM, Helen has supported careers and outreach in schools for over 40 years including establishing Wrexham's science centre.
Now she is involved in several national organisations including being Chair of the Institution of Mechanical Engineering's Education and Skills Board, a Member of the Royal Society's Education Committee, Vice Chair of a Multi Academy Trust and advisor to the Strategic Industry Advisory Board, at Canterbury Christ Church University.
She is also a Fellow of the Institution of Mechanical Engineers, in 2005 she was named Woman of the Year for Science and Technology in Wales and has held many non-executor directorships across a range of businesses.
In 2021, Professor James, was awarded an OBE in the Queen's Birthday Honours List, for services to Higher Education and Charity.
VIDEO: Helen reacts to her award and the future of the University of Cumbria, particularly her home town of Barrow-in-Furness
ENDS