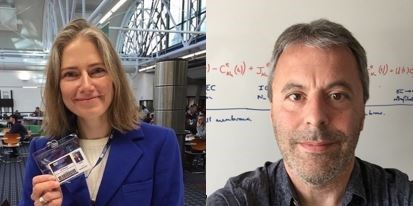 University academic investment complements regional transformation plans
The University of Cumbria is growing its academic provision, helping to deliver its long-term strategic mission to provide enhanced higher education and address regional and sector demands for higher-level skills.
A new Institute of Engineering, Computing and Advanced Manufacturing will be based at the university's campus proposed for Barrow-in-Furness, an industrial location with strengths in manufacturing, sub-sea and renewable energy.
Academics and employers are co-creating programmes of study for the institute, aligning, initially, to advanced manufacturing and computing. In addition, the university's existing Institute of Business, Industry and Leadership is devising programmes in areas including supply chain and logistics, business and Project Management.
Two new senior appointments have been made to lead the Institute of Engineering, Computing and Advanced Manufacturing, including research and technology, and engage with industry, employers and stakeholders.
Professor Jill Stewart takes up the role of Director of the Institute in February 2023 while Professor Paul Stewart is joining as Professor of Engineering and Advanced Manufacturing.
The Derbyshire-based Chartered Engineers are both Fellows of the Higher Education Academy and the Institution of Mechanical Engineers. The award-winning academics have a wealth of specialist engineering expertise in the areas of Electronic, Control and Digital Systems Engineering; as well as extensive experience in collaborative research partnerships including Siemens Energy, Airbus and Rolls-Royce.
Establishing the new academic institute builds upon the University of Cumbria's existing partnership with BAE Systems, which is focused on meeting its long-term skills needs in advanced manufacturing, digital and leadership, in addition to developing collaborative research programmes focusing on Digital Engineering.
Tackling needs arising from an ageing population in the region, as well as skills and productivity gaps, the university is also working with Lancaster University, Furness College and others to provide wider opportunities and progression into and through further and higher education.
The university campus plan is central to the Barrow Learning Quarter (BLQ) that is described as a once-in-a-generation opportunity to transform education in the area. The BLQ is one of seven transformative projects for Barrow receiving significant funding from the government's Town Deal.
A planning application has been supported in principle by councillors in Barrow, with discussions ongoing to resolve outstanding issues.
The campus, to be sited next to BAE System's Submarine Academy of Skills and Knowledge, is set to be completed and welcome its first students on site in autumn 2024. Alongside the campus and aligned to the needs of employers, the BLQ includes a new Skills Hub at Barrow Sixth Form College.
University of Cumbria Vice Chancellor Professor Julie Mennell said: "Our new Institute of Engineering, Computing and Advanced Manufacturing is a substantial commitment not just to the region but also to the sectors of manufacturing, engineering and computing, and it will be housed in our new statement campus in Barrow.
"The Barrow Learning Quarter is a truly transformational project that will increase the accessibility, reach and impact of our academic offer. We're proud to be working with our partners BAE Systems, Furness College and Barrow Borough Council on this project, enhancing progression and participation into higher education, helping to improve future prospects of those growing up and living in and around Barrow, transforming the lives and livelihoods of those in the communities we serve."
ENDS
Notes to editors
Notes to editors 
On July 27, 2019, the Prime Minister announced that the Towns Fund would support an initial 101 places across England to develop Town Deal proposals, to drive economic regeneration and deliver long-term economic and productivity growth. See further details of the announcement: PM speech at Manchester Science and Industry Museum - GOV.UK (www.gov.uk) 
A Town Deal is an agreement in principle between Government, the lead council and the Town Deal Board. It will set out a vision and strategy for the town, and what each party agrees to do to achieve this vision. See the 101 places being supported to develop Town Deals: list-of-100-places.pdf (publishing.service.gov.uk) 
Each of the 101 towns selected to work towards a Town Deal also received accelerated funding last year for investment in capital projects that would have an immediate impact and help places "build back better" in the wake of Covid-19. View a list of accelerated funding by place: towns-fund-accelerated-funding-grants.pdf (publishing.service.gov.uk)