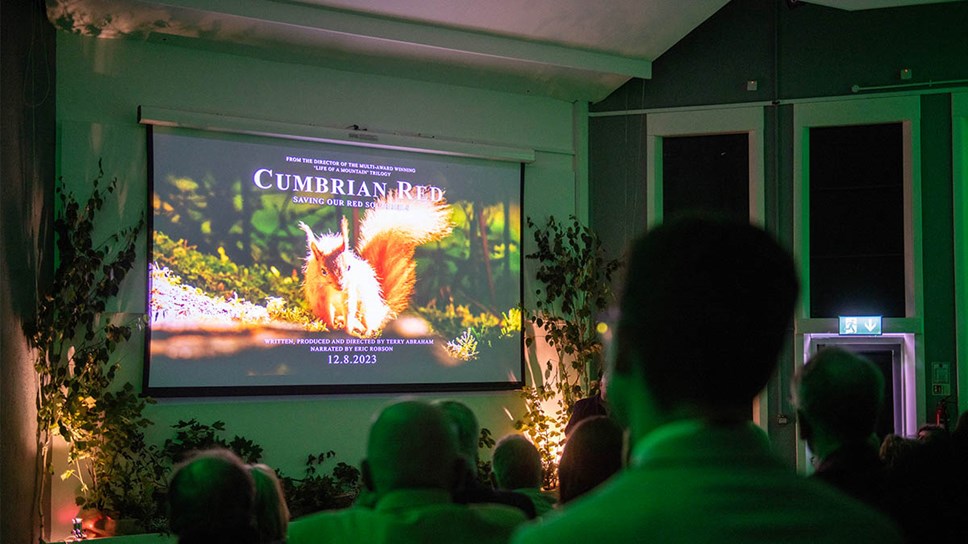 University assists award-winning filmmaker in quest to save native red squirrel
In a county that is home to some of the UK's remaining red squirrel populations, academics and students at the University of Cumbria have been working alongside award-winning filmmaker Terry Abraham on his latest project.
Cumbrian Red: Saving our Red Squirrels receives its UK premier at Rheged, near Penrith, this weekend.
This breathtaking and educational film features stunning cinematography and documents the plight of native red squirrels within the Lake District National Park and Cumbria.
BA (Hons) Wildlife Media students including Peter Howarth and Rebecca Cooper have been mentored by Terry on locations across the county, honing their skills on shoots and capturing footage and interviews.
Above: Associate Professor Dr Penny Bradshaw with Wildlife Media student Rebecca Cooper
Squirrel expert Dr Claire Holt, a forestry and conservation science lecturer in the university's Institute of Science and Environment, appears on screen providing a scientific perspective and insight into the lives of red and grey squirrel populations and the conservation work being done to protect the native species.
Dr Holt's research focuses on landscape genetics of red and grey squirrel species in Cumbria and Scotland.
Pictured right, Dr Holt said: "Growing up in Keswick, I have seen the gradual colonisation of grey squirrels in the county and then seen the decline of reds in many areas. Being brought up in the Lake District, conservation has always been important to me as is doing further research into how we can conserve the reds and manage the greys. The more information we can provide the public the better."
2023 prize-winning BSc Forest Management graduate Richard Miller, who works as a senior conservation ranger at Center Parcs' Whinfell Forest, also features in the film, talking about the reserves' red squirrel conservation work.
Filmmaker Terry Abraham, himself a professor of practice at the University of Cumbria, said: "It has been an 18-month journey to get to this point, a conservation story of a beloved, iconic species.
"By us all working together – from landowners, volunteers, groups, and charities – we can help to save these beautiful native creatives. Working with university students and staff on parts of this passion project, we've been able to develop a story that is engaging, entertaining, moving and, hopefully, inspiring."
Above: University of Cumbria Professor of Practice and Cumbrian Red filmmaker Terry Abraham
Professor Julie Mennell, Vice Chancellor at the University of Cumbria, said: "As a university of and for Cumbria, it has been thrilling for us all to see how this project has involved students and colleagues from across several of our academic fields from the arts to forestry.
"Not only providing a spotlight to raise awareness and to open up discussion and debate from a range of perspectives, this film has offered professional opportunities for our students and graduates who, through our teaching, we are helping to equip with the skills and knowledge that will enable our communities and environments to thrive - now and in the future."
The university hosted a preview event for more than 60 guests recently at its Ambleside campus in the heart of England's Lake District.
Written, produced, and directed by Terry, Cumbrian Red has been made in association with the university, Center Parcs, National Trust, Cumbrian Ales, and The Beatrix Potter Society. It is narrated by Eric Robson OBE.
Details of the Cumbrian Red premier can be found at https://rheged.com/event/uk-film-premiere-cumbrian-red-saving-our-red-squirrel/
Information about the university's Wildlife Media and other courses is available during Clearing online at https://www.cumbria.ac.uk/clearing/ or by calling 0808 178 7373.
ENDS
Notes to editors
1. To discuss interview opportunities featuring Claire, Rebecca or Terry, please contact the university communications team – news@cumbria.ac.uk or call 01228 279360.
Red squirrels are listed as Endangered on the Mammal Society's Red List of British Mammals: https://www.mammal.org.uk/science-research/red-list/
IMAGES
* Main - Preview screening of Cumbrian Red: Saving our Red Squirrels, at the University of Cumbria Ambleside campus, on 14 July.
* University associate professor Dr Penny Bradshaw chatting with Wildlife Media student Rebecca Cooper at the Ambleside preview event. Rebecca was among those to contribute to the making of the film.
* Dr Claire Holt, forestry and conservation lecturer at the University of Cumbria
* University Professor of Practice and Cumbrian Red filmmaker Terry Abraham, addressing the audience at the Ambleside event
* Wildlife Media student Peter Howarth chatting with university Honorary Fellow and mountaineer Sir Chris Bonington and his wife Loreto at the Ambleside preview.