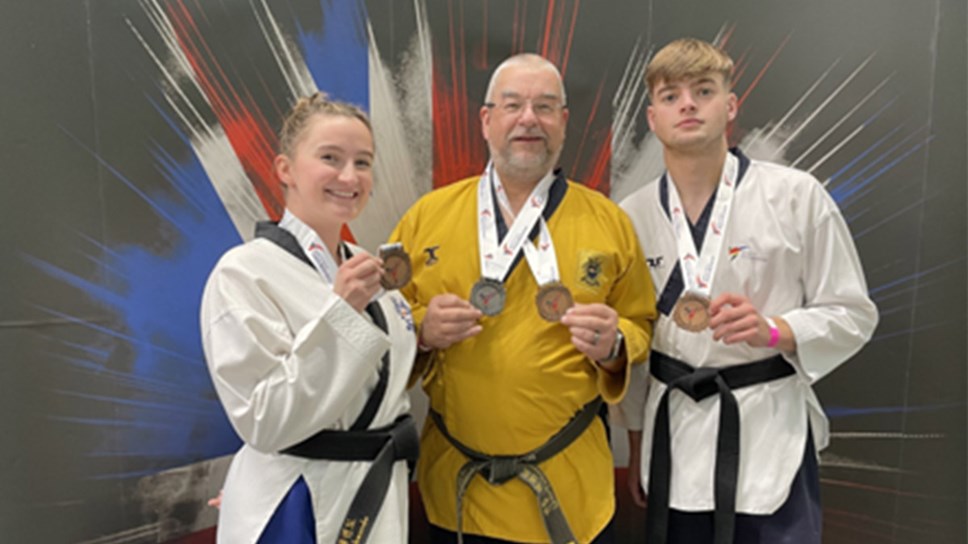 Nursing student champions young people's mental health through martial arts
Achieving bronze at the British Taekwondo National Championship recently, nursing student Katy Watkinson has revealed how the sport helps her to champion young people's mental and physical health.
In her final year of the BSc (Hons) Mental Health Nursing programme at the University of Cumbria, Katy has been managing her studies alongside her training to ensure she was ready to compete at the British Taekwondo National Championship in Worcester last month.
In the Poomsae competition, Katy with her father Russell and brother Henry picked up a bronze in the synchronised family category.
In her spare time, Katy volunteers as a coach at her family-run Taekwondo club, Unite Ormskirk in West Lancashire.
Katy is a 3rd Dan Black Belt and continues to inspire and motivate others in making a difference in their lives - a champion in improving the mental and physical health of young people in the community.
Above: Henry, Russell and Katy Watkinson competing in the synchronised family Poomsae category
Katy says: "Taekwondo has been a huge part of my life for the past 14 years. It has always served as a way for me to de-stress, whilst also improving both my physical and mental wellbeing and providing a wider social circle for me to engage in. I started coaching Taekwondo as a volunteer to aid the completion of my Duke of Edinburgh's Award, but I have continued ever since.
"I was one of the first coaches at Unite Ormskirk when the club was started around nine years ago and have since been joined by my parents and my brother, and it has been such a joy to watch and guide young people through the same journey I have been on."
She continues: "Some of our students started with us as white belts at the age of four and have just gone to high school as high grade red belts and black tags, which gives the whole team at Ormskirk a great sense of pride.
"Since starting my nursing degree, it has become increasingly evident to me that Taekwondo has such a positive impact on an individual's mental health. It helps to build confidence, self-esteem and often provides a safe space for students to come and relieve some tension whilst also having fun with their friends."
As well as Taekwondo, Katy has also been making a positive difference over the last few years in other ways. She worked in nursing homes before and throughout Covid 19 pandemic. One of the establishments where she has completed placements during her degree has been so impressed with her professionalism that Katy has been offered a full-time post upon completion of her university studies.
Katy says: "I look back fondly on the memories we made during the pandemic, where we would train online once a week and hold online challenges until our next training session. Although we all felt so far away from each other, it provided us with a sense of normality and community even in those darker times.
"The five tenets of Taekwondo encourage young people to display integrity, courtesy, perseverance, self-control and indomitable spirit, which are all factors that can be taken into their everyday lives, into their wider communities and hopefully used to the benefit of those around them. I know I try and take these tenets into my nursing practice too.

"I truly hope I can continue to combine the knowledge and passion I have gained from my nursing studies with the love I have for my sport, and continue to support and instil this passion not only into my Taekwondo students, but also into the individuals I will look after throughout the duration of my nursing career."
Katy is also collaborating with academics from the university's Institute of Health - Louise Corless, the BSc (Hons) Nursing Programme Leader, and Senior Lecturer in Nursing Dr Alison Buckley - on a several publications for a nursing journal.
Louise says: "Katy is a highly committed, compassionate and competent student nurse who is a credit to the programme and to the profession. We are very proud of her achievements during the programme and the work she continues to do within the community."
The University of Cumbria is hosting a series of open days in Barrow, Carlisle, Ambleside, Lancaster and London, as well as virtual events, for those interested in finding out its courses in areas including health and education. Full details are available at https://www.cumbria.ac.uk/events/
ENDS