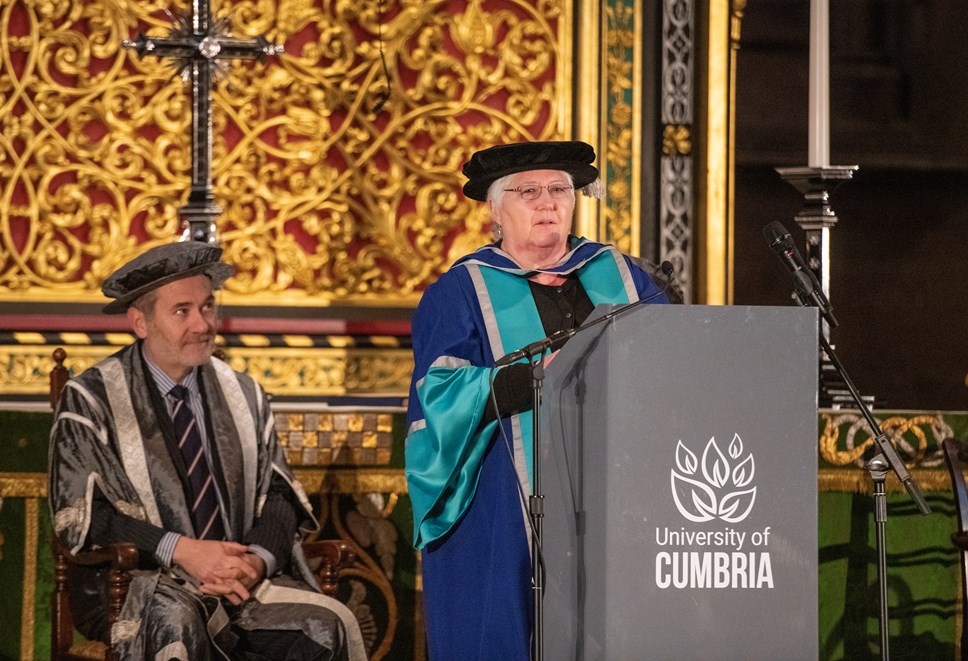 North East figure honoured for outstanding global contribution to nursing, midwifery and education
The President of the Commonwealth Nurses and Midwives Federation, which represents the nurses' associations of more than 50 countries, has been awarded the University of Cumbria's highest honour.
Professor Kath McCourt CBE FRCN, who is Deputy Chair at Newcastle Upon Tyne Hospitals NHS Foundation Trust, has been awarded an Honorary Doctorate.
It is only the second time the university has awarded its most prestigious accolade. The Honorary Doctorate recognises individuals of significant merit, academics with an international reputation, or national and international figures who are inspiring role models for young people, communities and stakeholders.
Kath is a Fellow of the Royal College of Nursing who has been nominated, elected and represented her employer and the nursing profession in a variety of regional, national and international settings over the course of her career.
Reacting to the news, Kath said: "I am absolutely delighted and privileged to receive an Honorary Doctorate from the University of Cumbria. The University provides education and opportunities regionally, nationally and internationally to so many individuals and through my career as a nurse, midwife, educator and leader, education and practice has been key to achieving my ambitions and fulfilling dreams."
Her illustrious career started from humble beginnings. As a child, Kath attended eight different schools, moving often due to her father's work as a publican in the North East. Overcoming the challenges that this lack of continuity posed, Kath went on to complete her nurse training at Newcastle General Hospital before starting her career as a registered nurse and midwife in the UK, Germany and America.
After returning to her native North East to work in 1979, Kath went on to hold a number of senior roles in intensive care in the area. She also studied, at undergraduate and postgraduate level, before moving into the world of academia in the late 1990s, teaching specialist and advanced practice at postgraduate level at Northumbria University.
She has also served as an advisory consultant to a number of overseas governments and organisations including posts in Iraq, Lebanon and Kurdistan on behalf of the World Health Organisation.
Awarded a Professorial Chair in Nurse Leadership, Workforce Development and Education in 2007 from Northumbria University, Kath became a Fellow of the Royal College of Nursing (RCN) the following year. She has also worked in Shanghai, Malaysia and Egypt.
In the Queen's Birthday Honours 2012 Kath was awarded the CBE for services to nursing. From 2008 she held the senior posts of Dean and Executive Dean and, on retirement, became a Pro-Chancellor of Northumbria University between 2016 and 2019. In March 2018 Kath was elected President of the Commonwealth Nurses and Midwives Federation. She is also an Honorary Colonel of 201 Field Hospital, Newcastle upon Tyne.
Professor Brian Webster-Henderson, Deputy Vice Chancellor (Health, Environment and Innovation) and a Professor of Nursing himself, said: "The strong foundations upon which our university's rich heritage and mission are built upon today include our expertise in and commitment to educating generations of nurses, midwives and allied health professionals.
"Reflecting on this, and in celebration of her own wealth of experience and expertise, the University of Cumbria is proud to present Professor McCourt with its highest honorary award. Kath is a truly inspirational leader and ambassador for the nursing profession."
This week, more than 1,200 University of Cumbria graduands are celebrating their academic achievements in nine different graduation ceremonies taking place at Carlisle Cathedral.
Alongside Kath at this week's ceremonies are Marcia Reid Fotheringham JP DL and Brian Higgins, who are both receiving Honorary Fellowships.
Marcia is being made an Honorary Fellow in recognition of her significant contribution to the public, cultural, community and charitable sectors in Cumbria. Brian will receive his Honorary Fellowship in a ceremony at 3pm today (Thursday 24 November) in recognition of his lifelong and outstanding contribution to the music industry.
Honorary Fellowships recognise individuals who make outstanding contributions to the university or support causes linked to the university's work.
Ceremonies are being live streamed - www.cumbria.ac.uk/graduation.
ENDS