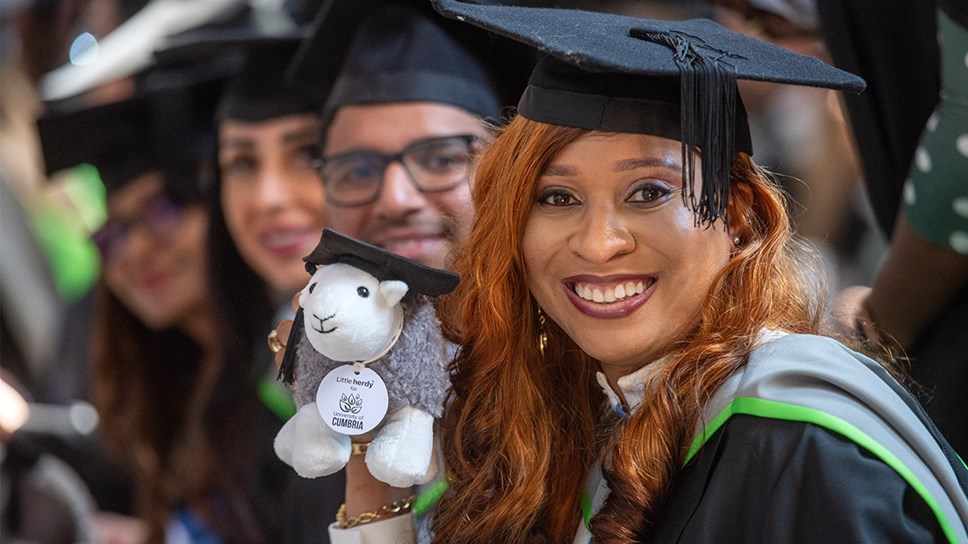 November ceremonies to celebrate Cumbria's university graduates
More than 1,000 students from 50 different countries will be celebrating their academic achievements this month at University of Cumbria graduation ceremonies.
Eight formal ceremonies will take place in the splendid surroundings of Carlisle Cathedral across three days - Tuesday 21, Wednesday 22, and Thursday 23 November.
During the week, the university will confer three Honorary awards, a doctorate and two fellowships.
Receiving the university's highest award, Rory Stewart OBE will be awarded an Honorary Doctorate.
Also set to join a diverse community of more than 100 distinguished recipients, Honorary Fellowships will be awarded to Annie Mawson MBE and Rebecca Gadsby.
A fellowship will be bestowed upon Annie in recognition for her lifelong and outstanding contribution to community music therapy. Award-winning theatre director Rebecca Gadsby will be honoured for her outstanding contribution to innovation within the performing arts industry.
Ten years on from her own graduation, illustrator Yvette Earl returns to receive the university's Alumnus of the Year award given in recognition of outstanding contributions made in their chosen fields.
Often reflected in her popular architectural commissions, Yvette is a staunch supporter of her home city of Carlisle and the northern region.
Yvette returned to the University of Cumbria in 2023 to create a bright nature-based mural that breathes new life into an outdoor classroom area. The outdoor classroom at the university Fusehill Street campus in Carlisle is used by student teachers during their training and is a resource for visiting schools from across north Cumbria.
Yvette has also created a commemorative illustration of the Brampton Road campus where she was previously a student. A limited print edition of this image has been created as part of the university's Arts@60 activities taking place this autumn to mark 60 years of arts education from the campus in Stanwix, Carlisle.
Above: clockwise (from top left): Annie Mawson MBE, Rory Stewart OBE, Rebecca Gadsby, and Yvette Earl
Rated 'silver' overall for the quality of its teaching and student outcomes in the Office for Students' Teaching Excellence Framework, the University of Cumbria is looking forward to welcoming more than 3,200 graduands, guests and well-wishers to Carlisle and the city's Historic Quarter.
Proud to provide a flow of higher-level and sector skills locally, regionally, and internationally, latest graduate outcome figures (HESA 2023) show that the University of Cumbria remains consistently one of the top universities in North West England for graduates going into work or further study.
The largest groups of graduands celebrating this month are entering professional and frontline services such as teaching, business and health. Many graduates have also been studying their programmes whilst juggling work commitments, with co-created provision often delivered by the university in partnership with employers.
Joining the celebrations are graduates and university staff from across several academic areas including education and the arts – eg: teaching, games design, graphic design, wildlife media; health – eg: nursing, midwifery, paramedic practice, social work, physiotherapy, advanced clinical practice, medical imaging, counselling; science and environment – eg: outdoor and experiential learning, animal welfare; and business, leadership and management.
Campus-based students from Carlisle, Ambleside, Lancaster, and London who are graduating this autumn will be alongside peers who have studied off-campus, via distance learning and flexible routes including work-based continuing professional development and apprenticeships.
Travelling to Cumbria from 50 different countries, 200 international learners will be taking part in Thursday's final day of celebrations.
Many of this international cohort - distance learners who have completed their University of Cumbria postgraduate studies through Zurich-based Robert Kennedy College – are graduating with MBAs in specialist areas such as artificial intelligence, energy and sustainability, leadership and sustainability, and international relations and diplomacy.
Pictured left, Professor Julie Mennell DL, Vice Chancellor of the University of Cumbria said: "We're delighted to be celebrating the achievements of our 2023 graduates".
"Across our university and partners, we are immensely proud of them and all their tenacity and hard work in earning their degrees, professional qualifications, and awards. We are delighted also to welcome so many of our international students and many who have combined their studies with work and other life commitments. Our graduations are a culmination and celebration of all their hard work and the role we fulfil in providing the people and skills needed to help our places, communities and economy to thrive."
Ceremonies will be live streamed and can be viewed at www.cumbria.ac.uk/graduation.  University of Cumbria Chancellor, The Most Revd & Rt Hon Stephen Cottrell, Archbishop of York will be attending the Tuesday ceremonies.
Graduates, guests and others can also join in the celebrations on social media. Updates will be via @cumbriauni, using the hashtag #WeAreCumbria. 
Ends