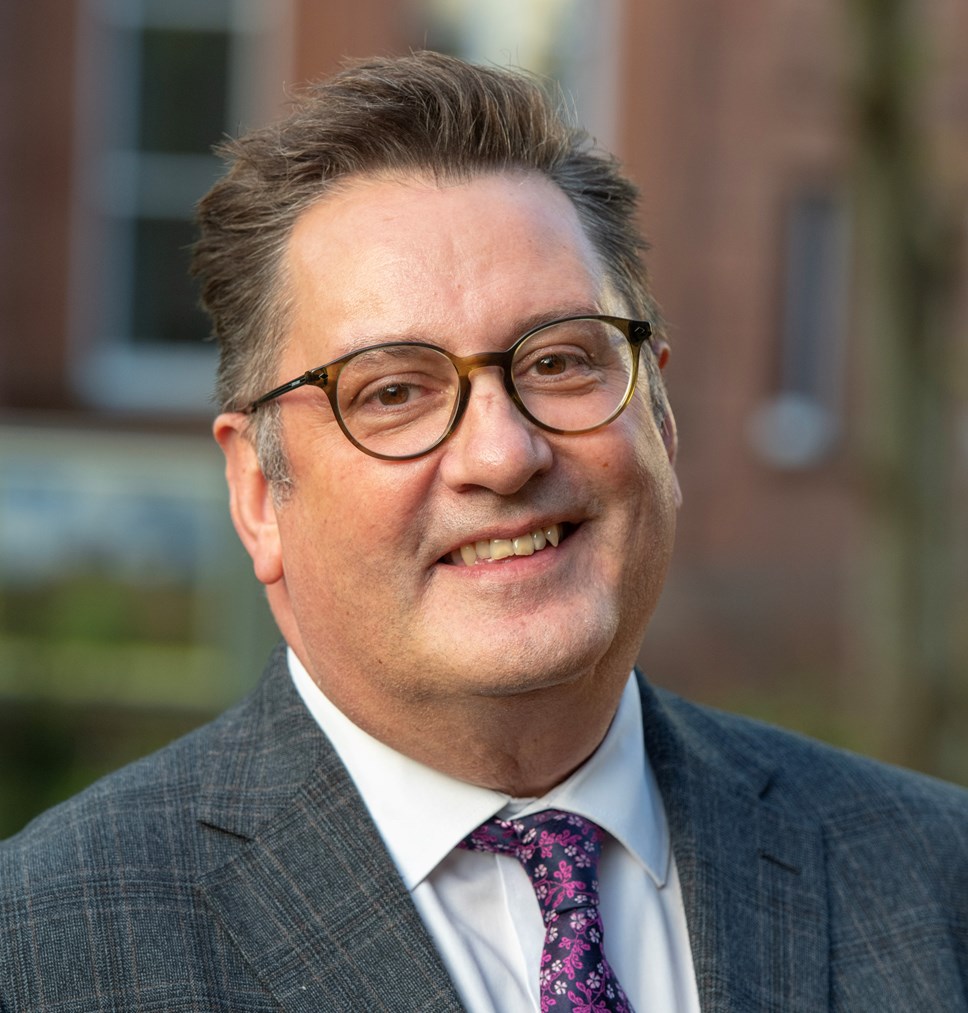 University leader awarded prestigious Fellowship of Queen's Nursing Institute
A Fellowship of the Queen's Nursing Institute (FQNI) has been presented to the University of Cumbria's Professor Brian Webster-Henderson in recognition of his leadership in nursing education and policy and commitment to community nursing.
The award was made by Professor John Unsworth QN at the annual awards ceremonies of the Queen's Nursing Institute (QNI) on 28 November 2022 at Friends House in London.
One of four new FQNIs, Professor Webster-Henderson said: "Being awarded a Fellowship of the Queen's Nursing Institute is an absolute honour.
"I am proud to join such an auspicious group of colleagues and join the long tradition of the QNI fellowship, which elevates the importance of community nursing in positively impacting people's health and wellbeing. At a time when our nurses continue to deliver outstanding care, in the face of significant challenges, I look forward to working with the institute towards shaping the future of community nursing."
Professor Brian Webster Henderson is a Professor of Nursing and Deputy Vice Chancellor (Health, Environment and Innovation) at the University of Cumbria and a recognised and established national leader in relation to nursing and health care.
He is Chair of the Council of Deans of Health UK, which represents the university sector across the whole of the UK. This comprises 100 universities that provide nursing, midwifery and/or allied health profession education and research and works at the highest level of strategic discussions on issues such as workforce, curriculum design, research and policy.
He also provides strategic leadership for the Institute of Health, and the Institute of Science and Environment, as well as Marketing and Recruitment, Research and Knowledge Exchange and Student Services teams across the University, including its sites in Cumbria, Lancaster and London.
Brian leads too on the university's equality, diversity, inclusion and well-being agendas and has a strong interest in cultural change within organisations. Brian is the Vice Chancellor Executive lead for the Lancaster and Ambleside campuses and is also an adjunct Professor at the John Hopkins University School of Nursing in Baltimore USA.
News of Brian's fellowship comes as the University of Cumbria held its first academic nursing conference last week. It was the first time that the academic nursing team had come together formally to discuss future trends and challenges in nursing education, celebrate excellence, and share best practice, since the pandemic.
Three external speakers joined the proceedings. Paula Holt MBE attended in her honorary role as Professor of Practice and talked about the new nursing standards. Professor Aisha Holloway from Edinburgh University emphasised the importance of doing 'what makes your heart sing' and Dr. Alison James of Cardiff University who attended remotely talked about compassionate leadership.
In addition, Brian provided an overview of current policy challenges to nursing education and provided a road map of what to consider going forward.
Notes to editors
Captions
Image 3: L:R Professor Aisha Holloway, Professor Paula Holt MBE, Professor Brian Webster-Henderson at the inaugural nursing conference 2022.